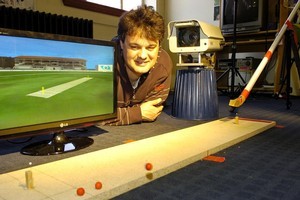 New Zealand technology passed its first international test at the first Ashes cricket match between Australia and England.
Dunedin-based Animation Research won the contract this year for its Virtual Eye technology to be used on Australia's Nine Network.
Animation Reseach managing director Ian Taylor was happy the technology succeeded in two moments that could have defined the match.
On the first day of the test, the decision review technology was used to rule that Australian bowler Peter Siddle did get a hat-trick. A decision on the first ball of England's second innings decided that captain Andrew Strauss was not out.
Fortunately, the technology worked and confirmed the umpire had made the correct decisions, Taylor said.
In developing Virtual Eye for the Ashes, Animation Research realised that if it was to meet demanding international standards it had to improve on the latest technology available.
The decision review system was controversial and not used in India, he said. There had been questions about its accuracy, particularly around the path the ball would take after hitting the batsman, pads or bat.
Animation Research rebuilt its ball tracking technology from the ground up and improved the speed from 110 frames per second to 230 frames per second, Taylor said.
"This is great for television but under earlier circumstances it was where the ball would go if it hadn't hit anything. Under the review, the question became where does it go if it hits a person. Did the ball hit the pad below the roll bar, to the left or right of the pad?
"At 110 frames you can't tell. With 230 frames you can see the indent on the pad, the frames are so fast."
Animation Research won the contract for the Ashes during the winter, when no cricket pitches in Dunedin were open. So the team built a scale model wooden pitch, installed a plastic pipe and rolled Jaffas down the pipe. When the Jaffas emerged from the pipe, the technology tracked it.
"That's how we developed the 230 frames per second. We had a quarter of a million dollars worth of hardware tracking Jaffas on a wooden pitch that cost about $10."
The technology will be used at the remaining Ashes tests.