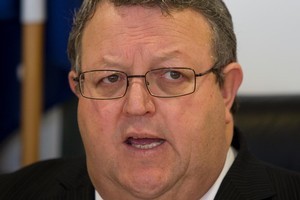 The Government is facing criticism for knocking back a plea by businesses for $3 million to help them recover from the Canterbury earthquake.
Labour MP Clayton Cosgrove said the Government's assistance had been inadequate.
"We are talking a recovery which could take two years or more," he said.
"Many businesses face very real pressure as a result of the quake. There are businesses going broke - the Government has to get serious about providing better support."
The Government has rejected a Canterbury Employers Chamber of Commerce bid for a $3.1m business assistance package.
Earthquake Recovery Minister Gerry Brownlee said there had been a range of requests for assistance.
"I think the issue here is a large number of businesses in Christchurch city who have taken appropriate cover, who have got the sort of business interruption insurance that you'd expect.
"It would be somewhat unfair to them to suddenly cover all of those people who didn't make those provisions."
Mr Brownlee yesterday announced a $500,000 package, including funding for two full-time and one part-time business recovery co-ordinators in Christchurch and Kaiapoi, $100,000 for promotional and marketing campaigns and further support for business mentors.
He said money would help with relocation and reduced customer numbers.
Today he said he was not "closing the door" on further funding but felt the Government had got the focus right.
"We have supported businesses with substantial wage subsidies for a large number of weeks and I don't think it would be fair to say that Government has turned a blind eye to those businesses at all.
"We think creating activity in the central city is part of the deal. We've insisted that council get barriers down as soon as possible. I think the programme they've got for taking those barriers back is working as quickly as it possibly can. It's getting people into those businesses to transact with them that is the key to long-term success here."
Mr Cosgrove said this was a once in a generation calamity and the businesses needed the Government to do more.
- NZPA