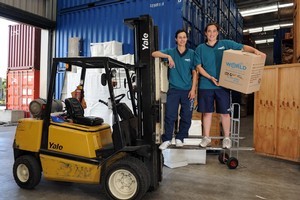 Removal firms hope a new national qualification will help lift standards in an industry rife with worker exploitation and dubious practices.
The previously unskilled relocations sector now has an NZQA level two certificate which employees can work towards on the job.
Raymond Dobbe, director of Avondale company World Moving and Storage, believes it is the first national moving qualification in the world.
He has been part of an industry committee which has worked to establish the certificate. It was about raising overall standards in the $400 million sector, he said.
"Our industry is dogged with inexperienced labour, and certainly labour that is exploited by various individuals."
Many operators will only pay for chargeable hours, not hours worked and travelling time, meaning workers don't earn enough to survive. That leads to low quality work and problems with theft.
"We go into homes where people have clearly got millions of dollars worth of stuff, and there's just temptation left right and centre, or there's the risk of making an absolute hash of it," he said.
"It just drags our whole industry down."
Dobbe said staff who had gained the qualification would be able to ditch jobs with less reputable traders and work for better firms.
The newly launched National Certificate in Relocations Operations has been developed in conjunction with Tranzqual, an industry training organisation representing a number of transport and logistics sectors.
Dobbe said movers learned basic customer service and health and safety skills, and then moved on to standards in domestic and international relocations.
They need to know how to fit everything in without damage, how an international container will be handled along the way, which port will deal with it, and so on. "There's a real skill to it."
An experienced person who only needed to prove their knowledge could get through the qualification in three to four months, while it might take someone new to the industry 18 months, he said.
Tranzqual CEO Wayne Smith said the relocations certificate was part of a wider trend of industries upskilling. It has similar qualifications in the pipeline for couriers, light motor vehicle drivers, and logistics staff.
Qualifications can take about 18 months to develop at a cost of up to $250,000. Tranzqual is owned by its industries but receives most of its funding from the Tertiary Education Commission.
Many of the sectors it looked after did not have a long history of investing in their workforce, Smith said.
The moving trade in particular has high Maori and Pacific Island representation and 47 per cent of removal workers have no qualifications at all.
Smith recalls one bus driver in his 50s whose industry national certificate was the first qualification he had ever achieved.
Sadly he passed away shortly after. "It was so important to him that he had changed his will so that he was buried with it."
Qualifications were also good for the employer. "There is a very direct correlation between a highly skilled workforce and bottom line profitability," said Smith.
Women equal to the task
Movers Kristol Morgan and Erina Newcomb have won "many a good wager" against clients who didn't believe two women could get the job done.
"We both drive trucks and they see these two girls turn up and they go, 'Where's the men?'," Morgan says.
They deal with it by taking bets with customers that they can move items out of their homes.
The World Moving and Storage employees are the first in the country to pass the new National Certificate in Relocations Operations, and helped industry training organisation Tranzqual develop the material.
"We were the crash-test dummies," Morgan says.
Newcomb says they had to translate the "doctors' lingo" on topics such as the anatomy of the spine.
"The questions didn't really make a lot of sense to normal removalists."
Neither had any previous qualifications. The certificate has given them a lot more pride in their work and in themselves, they say.
"I started doing this to pay for beer, and to me it was just a job. And now it's become a career," Morgan says.
"Some people think a monkey can do this [work], but you get a monkey in and your job is nuts."