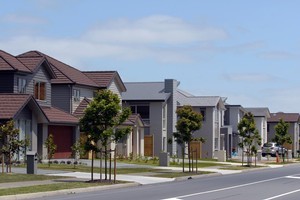 The Real Estate Agents Authority is investigating several property investment companies for potentially illegally operating without a licence.
The real estate industry watchdog says there is an issue around how traders who offer investment properties to mum-and-dad investors fit within the legislation.
The law says anyone conducting business with the intention of bringing about a real estate transaction must have a licence.
"We have, and are continuing to investigate, several of these businesses," an authority spokesman said.
There were a variety of property investment operations around, he said. They tended to fall into two categories: finders, who aim to buy and sell a property within days under what is called a contemporaneous settlement, and traders, who take possession of an investment property and then on-sell it, often with a guaranteed rental income stream.
The most infamous of these schemes was Blue Chip, a complex web of entities that collapsed nearly three years ago leaving thousands of small investors out of pocket.
One of the major problems with Blue Chip was that it fell through the regulatory cracks. Three years on and it is not clear that similar schemes are now captured by any of the new and proposed regulations surrounding investments.
Because they dealt in real estate they were still exempt from the Securities Act, meaning the Securities Commission had no jurisdiction, said general counsel Liam Mason.
The proposed legislation for the new Financial Markets Authority contained an amendment that would allow the Government to bring property back under the act. However, it would still need to make regulations covering particular types of investment schemes, Mason said.
If that happened, such schemes would need to provide a prospectus and be overseen by a statutory supervisor.
As it stood, investors needed to be aware that there was no requirement for property-investment scheme operators to back up promises of lease backs and rental guarantees. "It's a pretty big risk you're taking."
It is also not clear that the schemes are covered by the new financial adviser regulations.
From next year those offering investment advice on certain products must qualify as authorised financial advisers.
But Mike Hackett, managing director of Compass Property Investments, said his firm's legal advice was that its people did not need to be licensed real estate agents.
One of the hallmarks of Blue Chip was that investors were encouraged to get legal advice from Blue Chip-friendly lawyers. Victims of the scheme have since brought successful legal action against several of those lawyers. Hackett defended Compass' recommendation to clients that "it would be well within your financial interests" to consider using one of the firm's panel of preferred solicitors and accountants.
Hackett said this was to save on fees by going to a lawyer or accountant who was familiar with Compass leases.
Compass also tells clients they do not need to get a Land Information Memorandum (LIM) or building inspection done for their properties.
Barrister Paul Dale, who represents more than 200 Blue Chip victims, said it was "dispiriting" that this kind of advice was still out there.
Another type of investment scheme is used by property finders such as Discount Property, which says it "hunts out" investment opportunities such as mortgagee sales and deceased estates.
It secures the property with a sale and purchase agreement for five to seven days, and then emails the details to its database of investors.
It warns investors they may have only one to three days to do due diligence.
Lawyer Brian Ellis, of Auckland firm Ellis Law, described this as "indecent haste". It would not give the buyer any time to get a LIM or a building inspection report, or even check the title, he said.
Property Investors Federation vice-president Andrew King said: "In my opinion they really are property sellers and should come under regulations that control the real estate industry."
Advice from the regulator
* The REAA says: you are better protected if you buy a property through a licensed agent, branch manager or salesperson.
* Get independent legal advice before signing any type of contract or agreement.
* Do not sign anything under pressure or if you have concerns.
* Do a title search and get a LIM report.
* Get an independent valuation and an independent building report.