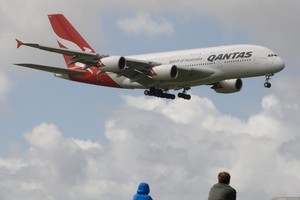 Come fly with me, come fly away.
Qantas boss Alan Joyce will put Frank Sinatra's lyrics into action as he boards the first A380 flight since the fleet's safety crisis erupted.
But there'll be no VIP guests, fanfare or celebration as the sold-out QF31 flight takes off from Sydney on Saturday on its way to London via Singapore.
Instead, Qantas' chief executive will be hoping that his presence on the 5.30pm flight will send out the message his superjumbos are safe to fly again.
Joyce also revealed the flight will not have the same captain who helped avoid catastrophe over the Indonesian island of Batam.
It's been a costly three weeks for Qantas since the carrier's double decker A380s were grounded on November 4 after the QF32 - bound for Sydney from Singapore - was forced to turn back when one of its Rolls-Royce Trent 900 engines exploded mid-air.
- AAP