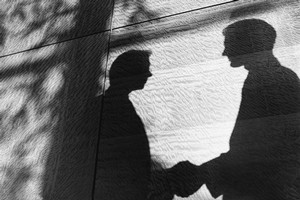 "We recommend printing the accompanying map of the shadow banking system as a 36" by 48" [0.9144m x 1.2192m] poster," the authors say of their brilliant chart published on page 3 of the Federal Reserve Bank of New York Staff Report no. 458, simply titled 'Shadow Banking'.
And you will need to magnify the image to at least the recommended size to fully appreciate the complex beauty of shadow banking as made into chart art by Zoltan Pozsar and his pals at the New York Fed.
The chart might be enough for some people but the accompanying text has pleasures on offer too. Essentially, the New York Fed paper details the mechanisms by which the world got into absurd levels of debt after allowing the "credit intermediation process" to slink out of sight.
At its pre-crisis peak the shadow banking system had magically created about US$20 trillion in credit, "or nearly twice as large as the volume of credit intermediated by the traditional banking system at roughly $11 trillion".
Through a complex seven-step process, we are told, shadow bankers could turn any old piece of rubbish into gold.
"Typically, the poorer an underlying loan pool's quality at the beginning of the chain (for example a pool of subprime mortgages originated in California in 2006), the longer the credit intermediation chain that would be required to 'polish' the quality of the underlying loans to the standards of money market mutual funds and similar funds," the New York Fed paper says.
The shadow banking business has since shrunk to a mere US$16 trillion, still more than the US$13 trillion of credit generated by your run-of-mill banks.
Credit must also go to the award-winning Financial Times journalist Gillian Tett, who alerted me to this report via story this week. Tett's original story might be hiding behind the FT paywall but the New York Fed paper is open access so go there and print out the page 3 chart for your loved ones.
Or if the seven-step credit intermediation process is getting you down try watching Mike Oldfield spit out his classic 'Shadow on the wall' on YouTube.