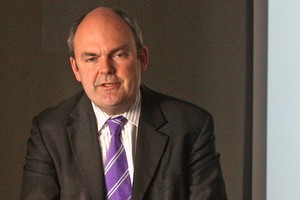 Telecommunications Minister Steven Joyce is promising he will be quick to pick partners for the Government's ultra-fast broadband project - once Crown Fibre Holdings delivers its recommendations.
Crown Fibre, the entity set up to manage the Government's investment, initially said it would recommend infrastructure partners in October.
A spokeswoman for Joyce said the Government expected a decision soon from Crown Fibre.
Telecom plans to split off its network arm, Chorus, as part of its proposal to join the $1.5 billion scheme, which aims to deliver fast broadband to 75 per cent of New Zealand over the next decade.
After promising the broadband scheme last election, the Government aims to make progress laying fibre optic cable in 2011 - an election year.
But industry bosses are increasingly wary that the downstream effects of the change - Telecom being split into two companies and a potential review of its current regulations to account for its new demerged status - will lead to problems.
Crown Fibre has already started negotiating with partners for three of the 14 regional contracts sharing the $1.5 billion Government investment. Private sector partners will deliver another $1.5 billion.
The entity has been deciding on the remaining 11 - including big contracts for Auckland, Wellington and Christchurch.
Telecom is pulling out all stops to get some of the project.
Vodafone and Vector are also key players.
"I wouldn't envisage a long period between ministers receiving recommendations and announcements being made," said Joyce's spokeswoman Anita Ferguson.
Industry analyst Rosalie Nelson of IDC said that the scale of the change was potentially huge and would mean upheavals.
The split would also need to be accepted by Telecom shareholders - though it is understood that it has support on the board.
Asked whether the downstream effects of the broadband project had been researched by the Government, Joyce's office said Crown Fibre was "considering in detail which proposals are most likely to best meet the Government's objectives".
"This process necessarily involves consideration of how potential regional or national partners would be likely to perform."
The Ministry of Economic Development recently sought submissions on a discussion document called Regulatory Considerations of the Structural Separation of Telecom.
"CFH is responsible for the partner selection process, but the Government maintains responsibility for the regulatory settings that will govern the UFB," said Joyce's office.
The Commerce Commission will not be able to regulate prices until December 2019.