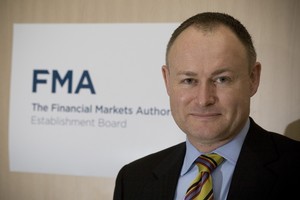 The chief of the new super regulator has decided to base himself in Wellington - a move expected to disappoint the Auckland business community.
Expatriate Kiwi Sean Hughes, who was last month appointed chief executive-designate of the Financial Markets Authority (FMA), yesterday said he had chosen the capital city over Auckland because that was where most work was needed initially to reshape the regulator.
"My view is that the heavy lifting for this role is going to be where all the staff are, which is in Wellington."
Hughes said if he'd chosen Auckland he would have had to spend much of his time flying to Wellington.
"This is the responsible thing to do. That said, it's also very important to have visibility within the Auckland business community and I will do everything I can to ensure that happens," he said.
Many business people believe that the Securities Commission would have learned about the collapse of the finance company sector and a number of issues associated with the industry sooner if it had been based in Auckland - New Zealand's business hub.
Hughes did not rule out a move to Auckland in the future but said his preference would be for a twin-city model where policy issues could be dealt with in Wellington and those areas of the FMA that dealt with business could be Auckland-based.
Details for the authority were being completed and that would help determine its organisational structure.
"But I'm not a great believer in having one head office," he said.
"My personal preference is to have different functions and processes in different cities."
Hughes officially starts the new job with the FMA in January, which is expected to be in place by April.
He said there had been no political pressure for him to be based in Wellington and he had been given the choice by FMA establishment board chairman Simon Botherway and the Ministry of Economic Development.
"It came down to what I thought was best for the organisation."