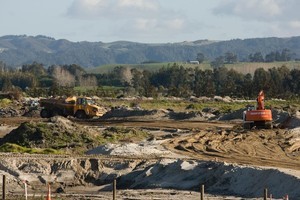 The commercial property sector is facing a protracted return to growth, but inexperienced developers will find it difficult to gain traction as banks continue to scrutinise risk-return trade-off.
Access to funding remained a lingering consideration, and while banks were interested in funding quality projects, a lack of depth in the second tier market had encouraged stricter assessment of transactions, BNZ's head of treasury solutions Graeme Free said.
"It's going to be harder for any old person with no experience in development to do a 20 block subdivision. They won't get funding unless they have a lot of credit."
New projects were more likely to be managed by established, proven operators and a "higher standard of end product is likely to result", he said.
Free, who was a speaker at the Property Council's national conference in Christchurch this week, said land would be least favoured and required strong sponsors and clarity of an exit strategy or ability to service the debt to obtain funding.
The riskier deals were identified as such, and the banks were putting a lot more capital against those deals than they did previously, bumping up the cost for those developers.
While some banks had relaxed their lending policies, most applications for funding were still evaluated on a case by case basis, he said.
"We are genuinely understanding the risk profile before we lend money and we are pricing accordingly because that's the way the regulators say we need to, to apply the capital," he said.
Free said the market for finance companies had shut down forcing people to front up with the cash or "some other skin in the game".
"That makes it's a lot harder and it's a barrier to entry which did not exist previously."
However Free said there was still a market for property developers with a sound proposal and the financial backing.
"At the end of the day if you have the cash and you can prove you've got a good project there's a chance you will get funding."
"What we won't have is a return to 2005/2006 levels where banks were asked to assume a lot more market risk."
"Because the fundamentals around bank funding and regulation have changed so much I think if I told this story consistently over the next two years, I don't think much would change," he said.
- NZ HERALD ONLINE