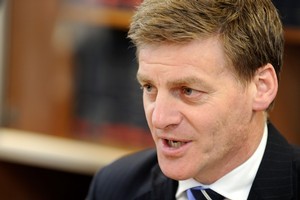 Finance Minister Bill English says Westpac should front up to its customers and explain why it is paying its New Zealand boss a record $5.59 million in a tough economic environment.
Westpac New Zealand chief executive George Frazis' total remuneration was revealed in the bank's annual report this week as A$4,386,308 for the year to September 30. Converted to New Zealand dollars, it puts Frazis ahead of both Telecom chief executive Paul Reynolds and Fonterra boss Andrew Ferrier.
Reynolds was New Zealand's highest-paid chief executive in the year to June 30, 2009, on a pay package worth $5.41 million but dropped down to $5.15 million this financial year. Ferrier was paid $5.11 million in the year to July 31.
Bank workers union Finsec has branded the package "unethical" because it came during economic troubles while Westpac was covered by the Government's deposit guarantee.
Yesterday English joined the pressure on the bank and said through a spokesman that Westpac needed to explain itself.
"In the current environment when many bank customers are struggling and banks are making good profits, the bank will need to explain to those customers why it is paying this amount to its chief executive officer."
Westpac's customers include the Government, which uses the bank to service all its departments. But English said the Government would not consider capping the salaries of bank bosses - a move which is being contemplated by the Australian Government as part of its review of the banking sector.
Frazis' package included fixed remuneration of A$967,330, short-term benefits of A$1,586,363 and a superannuation payment of A$14,586. He also received options worth A$399,634 and share rights valued at A$1,418,395. It is also more than $1.8 million higher than his Bank of New Zealand counterpart Andrew Thorburn, who earned $3.76 million during the same period.
Westpac has denied that Frazis is the highest paid because it says the A$1.418 million in share rights relates to a previous employer.
Frazis joined Westpac in March 2009 and was previously employed by National Australia Bank - the parent company of BNZ.
This month Westpac NZ reported a net profit after tax of $322 million, up 36 per cent, after it slashed its impairment charges by 39 per cent to $347 million.