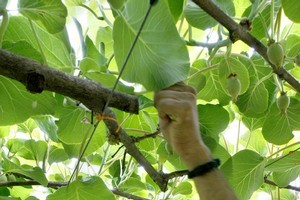 The vine canker bacteria PSA has spread to kiwifruit orchards in the South Island and eradication is looking increasingly unlikely, Biosecurity Minister David Carter says.
"MAF and industry is accepting that eradication is looking very, very difficult," he told a press conference at Parliament this afternoon.
Mr Carter said he would talk with Prime Minister John Key about industry requests for urgent action, but declined to put any figures on how much taxpayer funding the sector wanted, or what he envisaged the Government providing.
He spoke after talks in Wellington with Zespri chief executive Lain Jager and other industry representatives, and said they made a "compelling case" for government help.
Mr Jager also declined to comment on the sums involved.
The industry faces two key problems: paying for "aggressive containment" of the bacteria on orchards, and the likelihood that next season growers who lose vines to the disease this summer will suffer big drops on their budgeted cashflows.
Zespri today called urgent meetings with growers to discuss the implications of the vine canker bacteria being found at 28 orchards, including half a dozen outside the 23km area of infection south of Te Puke, including two in Hawke's Bay, one in Motueka, and one in Golden Bay.
Zespri will hold grower meetings tomorrow in Te Puke, Tauranga, Katikati and Northland, with a second meeting in Northland on Friday to discuss a response plan, grower support package and industry funding.
More infected orchards are likely to be found, according to the MAF response manager, David Yard: over 12,000 samples from vines have been submitted to a testing laboratory.
One listed post-harvest operator, Seeka, has said six of the Te Puke orchards that supplied it with kiwifruit had been infected: they contributed 8 per cent of the gold kiwifruit it handled, and 2 per cent of its total kiwifruit supply, which last season comprised about 26 per cent of the national crop.
- NZPA