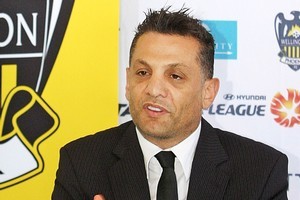 Wellington Phoenix chief executive Nathan Greenham has moved to guarantee the future of the A-League soccer club after Inland Revenue filed court papers seeking $3.58 million in unpaid taxes from club owner Terry Serepisos.
Inland Revenue has applied to liquidate five companies, including Century City Football, which owns the club, which is reported to owe $1.5m in PAYE tax deductions, GST, and KiwiSaver contributions, the Dominion Post reported today.
Formal proceedings to apply for liquidation were filed with the High Court last month and the application will be heard on December 13.
Mr Serepisos acknowledged he had a tax liability but expected it to be resolved in the next few weeks.
Mr Greenham today told reporters that he was "absolutely" confident the future of the club was not in jeopardy despite Mr Serepisos' latest financial concern.
In September, ACC moved to liquidate the football team for $261,000 in outstanding payments. Wellington and Hutt city councils have substantial outstanding rates claims against properties owned by Mr Serepisos.
Last month he reached an out-of-court deal to settle $8.95 million owed to Canterbury Mortgage Trust.
"It's clear that there's an issue that we've been working on for a little while now to resolve," Mr Greenham said.
"We don't think there's anything that can't be remedied, and hopefully ... in the space of perhaps of the next 10 to 14 days.
"This process isn't foreign to the IRD and the way they operate, it's just a shame it's now in the public forum."
Mr Greenham said the players and fans of the club had nothing to worry about.
"I can assure you, as I have done already, that the long-term future of the club is secure and that comes from conversations I've had from the senior guys at the A-League, as well."
Mr Greenham said the Phoenix, like all A-League clubs, were struggling financially in the current economic climate.
But he did not feel Mr Serepisos' issues would adversely affect their "brand".
"We've got a really powerful brand, and I think you'll find that support will show its face as it has done previously. We've built something really strong here and we truly believe it's here to stay."
The club had been exploring different ownership models to relieve some of the financial strain on Mr Serepisos.
"Over the past couple of months we've worked on a couple of different potential models that the club could run going forward, based on a shared ownership model and a supporters' trust model as well," Mr Greenham said.
"Despite Terry's current financial situation, whatever that might be, that's something we've been considering for a long time."
But the club was not for sale, he said.
A spokesman for Inland Revenue said it did not comment on individual taxpayer affairs.
Mr Serepisos has extensive property holdings in Wellington and has been dogged by financial troubles this year.
Wellington City Council sports portfolio leader, councillor John Morrison, said the loss of the Phoenix would have a massive impact on the city. A study showed the Phoenix's 11 home games last season contributed $7.9m to the local economy and generated 68 fulltime jobs in the region.
Professional Footballers Association of Australia chief executive Brendan Schwab said it would look to ensure all player entitlements were being met. However, using court action to try to recover debts did not necessarily mean Century City Football was collapsing, he said.
- NZPA