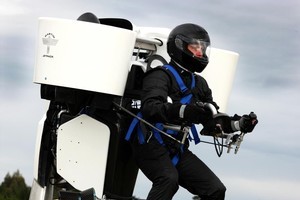 The company behind the Martin Jetpack will be forced to look offshore for development and expansion capital if a planned initial public offer doesn't spark the interest of New Zealand investors.
The Jetpack, which enables an individual to hover and fly with a large strap-on 'vehicle' has recently been listed as one of Time magazine's 50 best inventions for 2010.
Martin Aircraft Company Ltd. needs at least another $10 million to verify its technology around its safety and engineering, and to put a production process in place for individual, government and military requests that have been flooding in from around the world.
Chief executive Richard Lauder said "given we've ticked the technology box and the market box, it's a good time to go out and enable people to invest in the company."
He sees it being attractive to both 'Ma and Pa' investors as well as institutions, and the company is currently working with financial advisers and brokers on the feasibility of an IPO.
Should the decision to float be made, it is likely to be in the second quarter next year, he said.
The company already has a confidential joint venture document signed with an overseas government organisation for 500 Martin Jetpacks a year, in a deal where it would be manufactured in that country.
It also has had 1600 inquiries from individuals who would be prepared to pay an estimated US$100,000 each for the Jetpack for recreational use, Lauder said. "We're managing those inquiries by saying it isn't available yet, and making no promises on its availability as that is contingent on our funding," he said.
The Jetpack should go on sale 18 months after securing additional funds. Strictly speaking an aircraft, the Jetpack's testing, safety and engineering requirements need to match that industry's standards, he said.
"If we go down the IPO road, it will give New Zealanders a chance to invest," Lauder said. "If people didn't want to invest, of course we'd have to look offshore, though that tends to come with conditions."
One of those conditions would probably be construction in that country or area, though inventor Glenn Martin has always stated he'd prefer it to be made in New Zealand.
One advantage of a sharemarket listing aside from the reporting requirements and credibility of its structure is that provides a means for further fundraising if that is required Lauder said.
"It provides a transparency, and people know what's going on," he said.