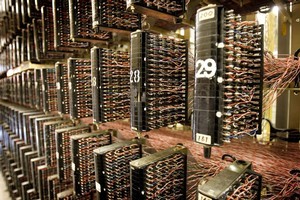 Rival telcos Vodafone and Telecom have joined forces to access funding to boost broadband speeds in rural New Zealand.
They are up against a competing proposal from a consortium of local lines companies and infrastructure providers under the Regional Fibre Group umbrella.
The bids were two of the five proposals received by Communications and Information Technology Minister Steven Joyce yesterday to bring faster broadband to rural communities.
The $300 million scheme is focused on delivering speeds of at least 100 megabits per second (Mbps) to 97 per cent of rural schools and enable 80 per cent of rural households to get broadband at speeds of more than 5 Mbps, with the rest connecting at speeds of at least 1 Mbps.
The majority of the funding will come from a new industry levy established to replace the Telecommunications Service Obligation, which guaranteed basic phone services for hard-to-reach customers.
Vodafone chief executive Russell Stanners said it made sense for the two companies to combine assets, investments and skills to bid for the scheme.
"We're absolute rivals in the retail market. I enjoy nothing better than winning against Telecom Retail and that's what you'd expect of us, to compete fiercely. What we're talking about here is infrastructure and ... in my view Chorus are one of the premier builders, if not the best builder of fibre infrastructure and cabinets in New Zealand.
"We'd like to think we're very good at building towers so bringing together those capabilities and our ability to invest and stand behind such a proposition we thought was a compelling opportunity for the Government," said Stanners.
The telco-backed bid would see Telecom run out 3000km of fibre, part of which would connect to 154 new cellphone towers to be built by Vodafone.
All elements of the network, including the cell tower infrastructure, would be open access and available for use by competing telcos.
Chorus chief executive Mark Ratcliffe said it was important not to be locked into one technology but instead allow for the co-existence of existing technologies, including various wireless and fixed-line options.
While future developments could push speeds available over copper lines well in excess of 100 Mbps, said Ratcliffe, as the fibre network grew it would culminate in fibre-to-the-home.
A rival bid by the New Zealand Regional Fibre Group focuses on using fibre networks to connect rural schools and homes at high speeds.
Its chief executive, Vaughan Baker, said schools would be connected at speeds of 1 gigabit per second - 10 times the speeds requested by the Government.
It plans to hook up rural households to the fibre network as it runs past the farm gate, potentially offering speeds of 100 Mbps.
"Five megabits per second just isn't good enough for such a core sector of the New Zealand economy."
Baker said the lines companies associated with the bid were already providing open access networks and the bid tabled came closest to meeting the Government's open access requirements.
A shortlist is expected by December 1 with a heads of agreement with the preferred party by December 22.
The fibre challenge
What the Govt wants:
* 97 per cent of schools connected to fibre delivering speeds of 100 megabits per second (Mbps). At least 10 Mbps for remaining schools.
* 80 per cent of rural households connected to broadband at speeds of 5 Mbps or better. The remainder connected by at least 1 Mbps.
On the table:
Telecom/Vodafone
* Fibre to 97 per cent of rural schools.
* Minimum of 5 Mbps to 80 per cent of rural households within six years.
Regional Fibre Group
* Fibre to 97 per cent of rural schools.
* Connect fibre-to-the-farm at speeds of 100 Mbps.
twitter.com/HelenTwose