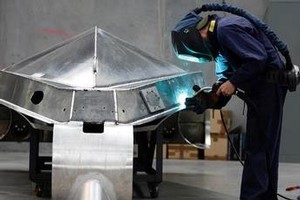 New Zealand manufacturing contracted for a third month as wood and paper producers stayed subdued, though conditions are on the turn upwards and exporters are mixed on the market outlook.
The BNZ-Business NZ performance of manufacturing index rose 0.5 point to a seasonally adjusted 49.7, staying in contraction, as firms became more upbeat about the future with expansion in new orders, employment and deliveries at 51, 51.5 and 52 respectively.
Current production fell 2 points to 46, dragging the index lower, while finished stocks rose 1.9 points to 49.9.
"The flattening out and general feeling of stabilisation in the overall PMI over recent months masks some opposing and distinct undercurrents in the details," BNZ economist Doug Steel said in his report.
"The forward-looking indicators suggest some improvement ahead."
New Zealand's economic recovery has stalled in recent months, prompting the Reserve Bank to pause its tightening policy in a bid to reinvigorate consumer spending.
Households elected to close their purses and pay down debt in response to the worst recession in 18 years.
Steel said exporters were "far from uniform for the manufacturing sector at present" with a wide range of responses across the spectrum.
Some businesses described conditions as "sluggish" while others were more upbeat, he said.
A divergence between the relative value of the New Zealand and Australian dollars has seen the kiwi push towards 80 US cents in recent weeks, while at the same time hang near 20-year lows against its trans-Tasman counterpart.
The PMI showed wood and paper manufacturing was still in contraction at 47.8, while food, beverage and tobacco was the strongest industry at 64.2.
Petroleum, coal, chemical and associated products was at 52.4, metal products was at 52.1 and machinery and equipment was at 56.5.
Unadjusted results by region showed expansion in the northern, central and Otago/Southland regions at 56.3, 54.8 and 53.7, though Canterbury/Westland fell back into contraction at 49.5.
Comments on market conditions showed there were more negative responses than positive at 56.2 per cent of respondents to 43.8 per cent.
The downbeat comments focused on customer caution and slow demand, while the upbeat responses were on exports to Australia.