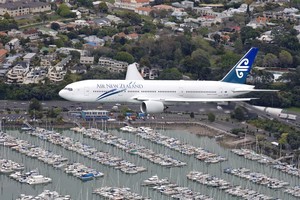 The European Commission has dropped a case against Air New Zealand alleging anti-competitive conduct but 11 other airlines have been fined €799.4 million ($1.4 billion) for being part of a freight cartel.
Over a period of seven years, from 1999 to 2006, airlines including Air France-KLM, Singapore Airlines, Qantas and British Airways operated a worldwide cartel that affected the price of air freight services.
Commission vice-president for competition policy Joaquin Almunia said the cartel would have continued operating had the commission not started its investigation.
Air New Zealand welcomed the news it had been dropped from the commission's list. A spokesman said the airline had always maintained its innocence and therefore was confident, and not surprised, the fine was dropped.
Almunia said the cartel harmed companies and consumers in Europe and if the commission had not stopped it, the price hikes would have continued through the economic downturn until today.
The commission's investigation showed that the airlines had discussed the surcharge it would impose, such as fuel increases, among themselves during alliance meetings. The surcharge was boosted after 9/11 to include inflated security charges.
"The fact that fuel prices were increasing or that security costs rose after the 2001 terrorist attacks, is not an acceptable reason to stop competing against each other. If companies costs' increase it's normal that their prices also increase. But companies cannot collude to fix the price for customers as this ultimately harms not only the latter but also the end consumers."
German airline Lufthansa also did not receive a fine as it was the first to inform the commission about the cartel.
Air France-KLM has to pay €310.1 million, while British Airways was fined €104 million. Air France-KLM will also have to pay the €29.5 million fine for Martinair, which it now owns.
Air Canada, Cathay Pacific, Cargolux, Japan Airlines, LAN Chile, SAS, Singapore Airlines and Qantas will have to pay fines between €8.2 million and €79.9 million.
Cathay Pacific said it was evaluating its options with regard to a €57.12 million fine.
The commission dropped charges against 11 other carriers, including Air NZ, and one consultancy, because it couldn't prove they participated in the cartel.
Almunia said it was important to clarify that the commission supported the consolidation of the industry as long as it did not create monopolies or excessive market power.
"We have approved numerous mergers and alliances in the sector. But the existence of an alliance agreement cannot give a blank cheque for naked price co-ordination among the members."
Air NZ faces proceedings from the Commerce Commission over its alleged involved in a freight cartel. This case is currently before the High Court.
The US Justice Department has charged 18 airlines and several executives in its investigation of the cargo cartel and imposed more than US$1.6 billion in fines.
- Additional reporting: AP