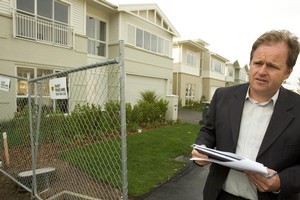 Patrick Fontein, the Auckland developer the BNZ wants to bankrupt, returns to court today.
Associate Judge John Faire in the High Court at Auckland is due to continue hearing submissions from Fontein's lawyer, David Connor, opposing a bankruptcy application.
"What this case is really about is when is enough enough?" Connor told the court on Monday, challenging the BNZ's submissions and trying to save Fontein from bankruptcy which he says will make it hard for him to continue was a property consultant.
Fontein's wife, Lynley, was in court with him on Monday, sitting one row behind. She was cited because the Remuera couple put personal assets into their Kensington business in an attempt to save it.
Scott Barker for the BNZ said Fontein's liabilities under personal guarantees to various creditors totalled more than $120 million, a sum undisputed by Fontein who Barker said was no different to any other property developers who could not pay their debts, Jamie Peters, or Cameron Marsh and Mark Perriam of Perron.
In both cases - Peters and the two Perron directors - developers were bankrupted for owing more than $100 million, Barker said.
The case was only set down for one day, a point the judge raised at the start. Barker's submissions took most of Monday.
But the judge told Connor he would be given all the time needed and he took action early on Monday to ensure the case continued today, noting it had taken some time to be heard.
When he opened on Monday afternoon, Connor said Fontein did not disagree with the amount owed but he is challenging the application and assertions about financial irresponsibility.
The BNZ case boiled down to the key issues of over-extension - claiming Fontein signed guarantees well beyond his ability to pay - impropriety, fiscal irresponsibility and breaches of loan agreements by drawing down funds not in accordance with loan requirements, Connor said. He would challenge all these points and provide evidence to the contrary.
When Fontein initially became a customer of the BNZ, he made full and clear disclosure of his financial position.
So the use of the term "over-extension" is inapt because the BNZ knew throughout what the level of his extension was, Connor said. He challenged the bank's claim that Fontein's bankruptcy was in the public interest.
The case is due to finish today and the judge is expected to reserve his decision.