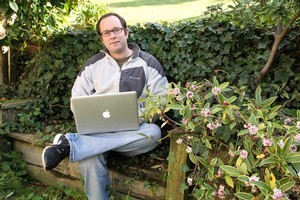 A helicopter game created by New Zealand iPhone and iPad developer David Frampton has taken off.
The latest version of Chopper 2 sells for US$2.99 and has performed well on the iTunes App Store charts.
Despite the low price, Frampton's one-man-band, Majic Jungle Software, is making good money out of Chopper.
"The first iPhone version has sold over 350,000 and had well over a million downloads if you include the lite version," Frampton says.
As for Chopper 2, Frampton says: "All I'm saying so far about Chopper 2 sales is that they are in the thousands and are well beyond expectations."
The first version of Chopper took around three months' full-time work, Frampton says, and it was developed originally for a competition for independent programmers.
Chopper was sold as shareware, but it "never really made a lot of money", and Frampton ended up taking a job at MetService programming TV weather graphics.
Things changed when Apple turned the software distribution model on its head with its iTunes App Store.
Frampton released Chopper for the iPhone in 2008. The business model at Apple's App Store is low price, high volumes. At US$7.99 ($10.36), Chopper reached No 13 in the charts. Once Frampton dropped it to US99c for the holiday season of 2008, it went to No 1.
"After Chopper for the iPhone was released I was able to go full-time iPhone development, and have been doing that ever since," Frampton says.
The 28-year-old did not expect to end up as a coder, supporting himself and his wife with his games.
"I basically began my career as an artist painting landscapes on canvases based in Dunedin, but started to teach myself programming," he says.
Frampton says he has no formal IT qualifications or training.
The first version of Chopper for Macintosh came about in 2003 because he always loved gaming, and the mix of art and physics and interactive design appealed to him.
"There was no question that I was teaching myself to code so I could make games," Frampton says.
He sees Majic Jungle Software as a very personal enterprise.
"I feel quite strongly that this is an art form."
He has turned down offers to sell the company to other publishers.
"I don't want a publisher pretending they made the game and releasing it under its brand."
Coding games does have some advantages over painting.
"I was always aware of that while painting - it's great to be able to create something once and sell it many times," Frampton says.
Although working alone can be tricky because of the lack of social contact and people to bounce ideas off, Frampton is enjoying the varied work and complete control.
He has dropped a plan to take on other designers and coders.
He uses Twitter to get around the problem of isolation at the home office, and makes an effort to stay in touch with friends and colleagues.
"I did try having some office space briefly, but found I never bothered to go in," Frampton says. Commuting feels like a huge waste of time as well.
"I think I'm more productive being surrounded by my home comforts.
"I just have to try and focus on working, and not get side-tracked by the garden or things to do around the house."
What's next after Chopper 2? Frampton isn't even thinking about Chopper 3, he says.
"It's hard to say what my present situation is.
"The sales reports could go any direction at this point and will probably have a huge influenceon what I do from here."
While Chopper 2 took longer than the previous versions to finish, Frampton says he is under no time pressure and works pretty much standard 40-hour weeks.
"I had something in my mind that I wanted to create and I wanted to get it right."