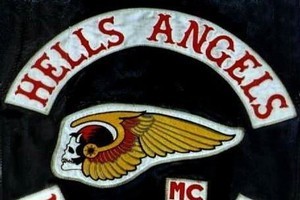 It would take a lawsuit to bring together the two polar opposites of a Los Angeles court this week.
The Hells Angels motorbike gang is suing luxury fashion house Alexander McQueen in a trademark challenge that would be run-of-the-mill but for the threatening roar of motorbikes in the background.
At issue is the alleged purloining of the famous skull-and-wings logo for profit.
The lawsuit filed by the Hells Angels Motorcycle Club - a "non-profit mutual benefit corporation" - demands that all items like dresses, jewellery and handbags bearing the offending motifs or designs be withdrawn from the market. It also seeks penalties.
Emblazoned on the jackets of Angels since about 1948, the so-called "Death Head" has been furiously defended by the group in repeated lawsuits, including against the Disney organisation (concerning the Wild Hogs film starring John Travolta) and an Australian children's clothing maker.
"The impact of these marks is virtually incomparable, and as a result they have great commercial value," the suit argues, alleging that the defendants - including Saks department store and online shoe retailer Zappos - seek "to exploit that value for their own gain".
Among items that have caused offence is an Alexander McQueen dress selling for £860 ($1815).
There was no comment from the London-based company, now owned by French luxury goods brand PPR after McQueen committed suicide in February.
The fight will serve as a reminder to the fashion world that attempts to appropriate a rough and edgy aesthetic from groups like the Hells Angels does not come without peril - legal if not actually physical.
The lawsuit targets goods that bear logos or designs confusingly similar to the Death Head such as a "Hells Angel Pashmina", a "Hells Knuckle Duster" and the "Hells Angels Jacquard Box Dress".
"From more than half a century of conspicuous usage, both the Hells Angels word mark and the Death Head design mark are famous," the lawsuit says.
The name and logo "are widely known and recognised by the public as indicating the Hells Angels Motorcycle Club".
Lawyers suggested that anyone wearing items cited in the lawsuit would be considered imposters trying to insinuate themselves inside the world's most famous motorcycling fraternity - an unlikely proposition given that most would-be purchasers of McQueen or Saks goods have never mounted a Harley-Davidson in their lives.
The action against Disney was prompted by a film called Wild Hogs. The challenge had the desired effect. The comedy - starring John Travolta - came out with nary a Death Head in sight.
- Independent