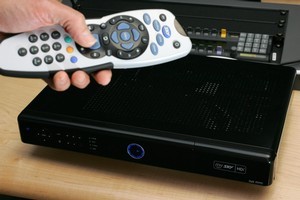 Sky Network Television Ltd said growth in the number of MY SKY subscribers has helped it increase revenue and reduce churn as My Sky has a lower customer churn rate than standard digital products.
The company told shareholders at its annual meeting that more than 24 percent of Sky subscribers are My Sky customers and in the last year 85,984 Sky subscribers moved to My Sky HDi.
The product allows customers to control their viewing.
Nearly 50 percent of New Zealand's 1.6 million households are now Sky subscribers.
"High definition, increased numbers of My Sky HDi subscribers, additional channels and new Sky services such as booking and recording programmes through 'remote record' and 'record me' have all contributed to a combined share of all television viewing for Sky and free-to-air channel, Prime of 33.7 percent," chairman Peter Macourt said.
Sky Television owns free-to-air channel Prime and is New Zealand's principal nationwide pay television provider.
In a few weeks time the company will launch iSKY, a new online television service.
Chief executive John Fellet detailed the phases of implementation in a presentation to the meeting.
Sky has partnered with internet service providers, including Vodafone, Orcon, Slingshot, Woosh, Xnet and Farmside who will deliver unmetered and uncapped internet service for iSKY users.
Fellet said Sky was comfortable with analysts' current mean forecasts for earnings.
The company provided a table of mean forecasts which showed a mean forecast of net profit after tax of $121 million in the year to June 30, 2011, up from $103 million in the 2010 financial year. Analysts are forecasting earnings before interest and tax of $200m in the 2011 financial year from $175m in the 2010 year.
- NZPA