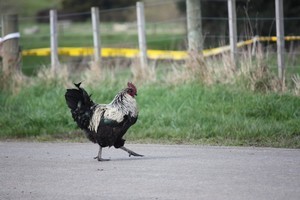 Heads of the Jewish communities in Auckland and Wellington are calling on people to write to Prime Minister John Key and his Agriculture Minister, David Carter, to protest the Government's proposed animal-welfare ban on shechita, the Jewish ritual slaughter of livestock.
The lack of locally-killed kosher meat could be the thin end of a wedge in terms of making it difficult for Orthodox Jews to live in this country, the Jewish leaders said.
Kosher slaughter of animals, known as shechita, is a ritual where the blood drains from an animal's severed throat. The tradition is an oral law and a tenet for Orthodox Jews. About 300 lambs and 2000 chickens were commercially slaughtered according to Jewish rite last year.
Auckland Hebrew Congregation president Garth Cohen and Wellington Jewish Community Centre chairwoman Claire Massey issued a statement headed "Save the future of Judaism in New Zealand".
"We want every household to donate $150," they said in a bid to raise funds for legal action filed against the Government in August. A Wellington court has ordered a temporary exemption until the case is decided next year.
"The prospect of a permanent ban on shechita, resulting in no more kosher meat in New Zealand is very real," the leaders said. New Zealand would be the first country in the world to outlaw kosher slaughter since Nazi Germany over 70 years ago.
"New Zealand Jews may soon be the only Jews in the world who can no longer eat chicken," they said.
Some kosher meat might be able to be imported - though biosecurity rules would not allow the entry of chicken - but the two leaders feared an animal welfare ban on ritual slaughter could later be followed by a ban on the import of meat from animals not killed with approved slaughter methods.
"If we lose the right to practise shechita, then the ability to import kosher meat will soon follow," they said.
In June, Carter rejected a recommendation from advisers that Jewish ritual slaughter of livestock be exempted from animal welfare rules under the Bill of Rights - which provides for freedom of religious practice.
But he issued a new welfare code with a requirement that all commercially slaughtered animals first be stunned.
Carter's national animal welfare advisory committee said that there was evidence that livestock which simply had their throats cut experienced pain, so animals needed to be stunned at slaughter.
But "this preferred position would deny the Jewish community in New Zealand access to locally-grown and commercially-killed kosher meat," the committee said in a report on its code.
Cohen and Massey said the absence of kosher meat could mean religious families left New Zealand.
"Few Jews will want to migrate here," they said. "We will be seen as a country where ... our traditions and beliefs are not respected or valued".
- NZPA