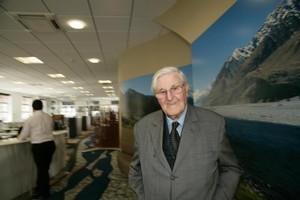 It is understood the New Zealand government is proposing a complete rewrite of the Hobbit movie in an attempt to break the impasse with Warner Brothers.
In top level talks with up to 10 Warner executives held last night it is believed Prime Minister John Key pitched a new scenario for the troubled film that would shift the action from mythical Middle Earth to present day New Zealand, lowering production costs at least 10-fold.
According to sources, the reworked film script - tipped to be called The Hubbard Movie - would, however, closely follow the original Hobbit storyline.
"Basically, it's the same plot as the Hobbit," the source said. "The South Canterbury Finance story is just as convoluted, adolescent and incomprehensible as anything written by JRR Tolkien."
The Hubbard tale would also include the usual bevy of fantastical characters - such as trolls, evil wolves, goblins, wizards and lawyers - familiar to readers of Tolkein.
In the original Hobbit, Bilbo Baggins is transported from a simple rural existence (think Timaru) into a series of baffling adventures staged in exotic locations.
According to this Hobbit summary, Bilbo is saved at a critical point in the story "by asking the dubious riddle, 'What have I got in my pocket?'".
As the plot nears its climax: "The humans of Lake Town and the elves of Mirkwood march to the Lonely Mountain to seek a share of the treasure as compensation for their losses and aid, but Thorin greedily refuses, and the humans and elves besiege the mountain, trapping the dwarves and the hobbit inside."
In the Hobbit's denouement, Bilbo returns home somewhat bewildered - as most readers would be.
"He is no longer accepted by respectable hobbit society, but he does not care," the potted Hobbit says. "Bilbo now prefers to talk to elves and wizards."
If the Key script goes ahead, Sir Peter Jackson would be retained to direct the movie with Sir Ian McKellen also expected to play the lead role of Allan Hubbard (QSO).
Key may also sweeten the deal for Warner Brothers by issuing a government guarantee as well as compelling all adult (over 12 years) New Zealanders to attend the movie.
In unrelated news, this sculpture (28cm long 19 cm wide and 5cm deep) inspired by the South Canterbury Finance story, failed to attract any bids in an online auction.