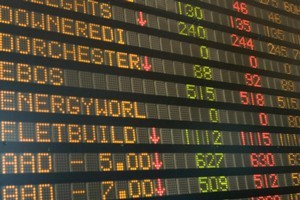 Scott's share price rose from $1.10 last month to close at $1.40 on Friday. Photo / Paul Estcourt
Dunedin-based robotic and automated production systems maker Scott Technology is on the rebound after the global downturn.
The listed company specialises in custom designed systems for the global appliance manufacturing and meat processing industries.
Since 2003, Silver Fern Farms has operated a joint venture with Scott Technology with the intention of developing a fully automated lamb boning room.
But the technology firm was one of the first local manufacturers to be hit by the recession, reporting a loss of $1.2 million in 2008.
Some of the firm's largest customers are North American appliance makers whose businesses are driven by the US housing market - the collapse of which prompted the onset of the financial crisis. "We felt [the recession] probably six months or a year before it came to New Zealand," said Chris Hopkins, Scott's managing director.
But the firm's fortunes have improved. This month it reported a jump in net profit - to $3.9 millon - for the 12 months to August 31, 2010.
And despite continuing volatility in some of its markets, especially the US, Hopkins said the company had good forward inquires and contracts.
Scott's share price has also improved, rising from $1.10 last month to close at $1.40 on Friday.
Hopkins said the firm's diversification across industry sectors and global markets that range from the Americas to Russia and the Middle East acted as a buffer against the recession.
"Our revenues are up across the board," said Hopkins. "Some of the markets like South America have actually been quite strong for us over the last year our two."
Scott acquired Onehunga-based Rocklabs in mid-2008, which manufactures mineral analysis equipment used by the mining industry.
But shortly after its purchase global commodity prices tanked, leaving mining firms less inclined to shell out on the kind of equipment Rocklabs manufactures.
"Ships stopped sailing out of Australia ... gold prices dropped," said Hopkins.
However an improvement in the prices of commodities such as copper and gold had increased demand for Rocklabs' products.
"The gold industry is going well worldwide at the moment," Hopkins said. "If the industry is very strong ... and making very good profits then they tend to be investing capital as well."
Scott reported a revenue of $19.1 million from the mining industry in its last financial year, an improvement on the $12.2 million of 2009.
Hopkins said the company, which manufactures in Dunedin, Christchurch and Auckland, had no immediate plans to move those operations overseas.
"But we do get a lot of pressure from our customers to be closer to them."
Scott spent $7 million on research and development in its last financial year and is expecting to invest a similar amount this year, he says.
Hopkins said the kiwi's high exchange rate with the US dollar had made an impact on Scott Technologies sales in that country.
But as the company operated in a niche environment - with no "benchmark" price for its products - it had the flexibility to adjust its prices to compensate for the exchange rate and stay profitable, he said.