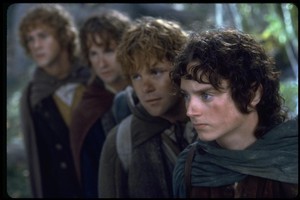 Sir Peter Jackson and his business interests seem to have won the media battle over The Hobbit.
As Council of Trade Unions president Helen Kelly says: "It's hard to go up against a legend. But winning it in the media has not been our priority. I'm proud of that and keeping to confidential agreements rather than giving material to journalists."
Kelly defends the union unwillingness to schmooze with media. But she acknowledged the approach of the Australian union running Actors Equity - the Media Entertainment and Arts Alliance (MEAA) - had been a hindrance in getting the alternative view across.
The position of Sir Peter and his business associates is clear - it's Hollywood's way or the highway for New Zealand film. We shouldn't say anything that puts producers off coming to New Zealand and we'd all be best to keep our heads down and keep unions out.
Which may be the unpalatable truth.
But surely some of the pro-Jackson media should take a step back and question the role of the Government backing one side.
The MEAA's silence - it has often refused to answer calls - has given credence to views by Sir Peter and the production industry that the union is secretive and has no interest in New Zealand.
To challenge a national icon you would think you would lay on a bit of charm - or just show some respect.
Kelly said: "There are still New Zealanders out there who believe that people have a right to negotiate."
Maybe the handling of the Hobbit dispute will win the MEAA and CTU an activist award at the next Socialist International prizegiving.
But in this country they have turned a lot of people off.
RADIO DAZE
The Radio Network has dropped long-time Classic Hits breakfast hosts Andrew Dickens and Jacque Tucker - ending their 13-year partnership in Auckland breakfast radio. Their final show will be next Friday.
Classic Hits programme director Jason Winstanley said no decision had been made on naming a replacement.
But there has been speculation that TRN ZM/FM breakfast hosts Pauline Gillespie and Grant Kereama may be moved over.
ZM/FM will be under pressure to compete against a younger sound on MediaWorks' The Edge. TRN has recently made changes at Radio Hauraki's breakfast show, dropping Willy de Wit and Dean Butler, and has appointed shock jock Ian Stables to the Drivetime Show.
Speculation on the Classic Hits change has been rife for some time since the last radio survey that showed the station growing with audiences older than its 18-44 demographic.
COUNTRY LIFE
Changes are afoot at the rural channel Country 99. Satellite broadband internet service provider Farmside has been in talks to take a stake in Country 99.
The channel - which is a premium channel available to premium subscribers on Sky TV - confirmed that it has had talks with interested parties including Farmside.
The terms of those talks are unclear. The chairman of the company, Colin Harvey, said that he was acting chief executive while Chris Gedye was away this week.
In the past Country 99 was restructured to reduce costs, a change that led to the departure of founder Andy Tyler, bringing troubled times and a subsequent legal dispute. Small niche media companies have been hit by the advertising slump.
Under the business model used by Country 99 it must pay a fee to Sky TV. Harvey insisted that Country 99 was in good heart, but that its main revenue was from subscribers which he said currently numbered 15,000.
TABLOID TV
Good news for TV staff and particularly for Campbell Live after MediaWorks announced plans to tweak TV3 and make dramatic changes to a new-look C4.
As a major cost centre, news has been under pressure through tough times at MediaWorks.
TV chief executive Jason Paris this week stressed that news and current affairs would play a key role in the new-look TV3 - and by mentioning Campbell Live he is suggesting that its future is safe.
Paris also confirmed that he was committed to maintaining the current "contemporary" feel of news and did not intend to go tabloid "like some of our competitors".
The big question will be what MediaWorks will do with its glamour clothes horse presenter Sam Hayes - maybe she will turn up as a celebrity host on news-free C4, being revamped into Four.
APN CHANGES
Winds of change are blowing at the corporate top of APN News & Media - the company whose interests in this country include the Herald, NZ Woman's Weekly, Listener and half of New Zealand commercial radio stations.
The Australian has reported that the appointment of Australian merchant banker Brett Chenoweth as the new CEO from January "crystallises the diminishing influence" of the Irish company Independent News & Media (INM), which owns 31.6 per cent of APN.
Chenoweth replaces Brendan Hopkins from January 1.
Hopkins announced in July he would be leaving at the end of this year.
Chenoweth has a background in media and telecommunications that is seen as useful in a sector being rocked by changes in the way people use media.
Changes to the board of directors - with the departure of INM associated directors Cameron O'Reilly and Donal Buggy - followed agitation about the makeup of the APN board and restructuring of INM.
The Irish company sold its British Independent title in April.
There have been long-running tensions between dominant shareholder Sir Anthony O'Reilly and rival shareholder Denis O'Brien.
Earlier this year O'Brien took over from Sir Anthony as the largest single shareholder in INM.
With the retirement of directors associated with INM links between Dublin and Sydney have melted away. And that has an upside for INM.
The Irish Times newspaper reported that under financial rules the debt of APN will no longer be counted against the accounts of INM - halving that company's debt.
Changes to the APN board membership will have no impact on INM's shareholding in APN. Gavin O'Reilly remains APN chairman.
The APN board recently appointed John Harvey as an independent, non-executive director from the start of next year.
Harvey, 58, is a former senior partner, Auckland managing partner and a member of the governance board of PricewaterhouseCoopers New Zealand.
HOWZAT
Chenoweth - whose base salary will be A$1.5 million ($1.97 million) - has a mix of telecommunications and digital media experience.
The Australian reported Foxtel chief Kim Williams, who knows Chenoweth well, as saying the appointment was a lateral move and a good one, describing him in cricket parlance as a "magnificent all-rounder".
Gavin O'Reilly said he would help "lead APN's expansion of its multimedia and integrated audiences, in both new and existing markets".
PERPETUAL MOTION
One of APN's biggest shareholders, the Australian fund manager Perpetual, is considering a takeover offer from private equity firm Kohlberg Kravis Roberts.
KKR is reported to have offered up to A$1.73 billion.
In 2007 - at the peak of the private equity boom with leveraged buyouts - Perpetual spearheaded opposition to proposals driven by Sir Anthony for a scheme of arrangement with Providence and Carlyle Group that would have privatised the firm.
Too few shareholders backed the scheme.