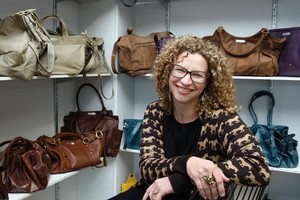 When Roanne Jacobson, the designer of handbag brand Saben, was in New York in 2003, she visited the boutique of her idol, Kate Spade. And to her surprise, she saw a bag which she knows she designed first.
"The internet is amazing but it can be quite destructive," she says. At least she knew she was on the right track if someone like Spade was finding inspiration from her designs.
In fact, Jacobson first began making handbags in New York. Growing up in Sydney, the Australian came to New Zealand in 1993.
She studied art at the Whitecliffe College of Arts & Design in Auckland, and in Jerusalem, ending up in New York.
The designer remembers showing her first handbag to a friend, who kindly offered to lend her another one to take out that night.
She laughs: "I thought, 'Oh I can do this, I just can't sew'."
Jacobson came back to New Zealand in 1999, found outworkers, sourced materials - in the early days it wasn't leather - then took her first sample around four stores including Stella Gregg in Ponsonby.
All four said yes. In 2000 she set up the business, calling her brand Saben (pronounced Say-bin), the maiden name of her beloved grandmother, Sarah Saben.
"By my third season I had created a name for myself," she says.
Now Redcurrent and Scarpa are her biggest stockists in Auckland and she has 40 around the country.
"The core identity distinguishing a Saben bag from others is its colour, it is a fashion forward look but it's completely functional," says Jacobson.
The bags retail for between $350 and $700 and are marketed as "an investment piece".
The Saben premises are a showroom and workshop in suburban Mt Roskill. As well as her main range of Saben bags, she makes wallets, men's bags and belts, luggage, and some other accessories.
At the HQ there are some plane-themed backpacks she made a while ago for Air New Zealand. "Our corporate work is a major part of our business," says Jacobson.
In her 10th year of business, she expects to sell 14,000 pieces, including her corporate orders. At the moment she is making purses for L'Oreal's Kerastase brand. Another important strand of her business is her Saben Says diffusion range of handbags and accessories for The Warehouse which launched in 2009.
The deal with The Warehouse hasn't made Jacobson a millionaire but the "recognition of me as a designer has been important", she says.
"It is an international trend for designers to be offering their language and skills to a completely different market," she adds.
The mass market range allows Jacobson the opportunity to work more intensely with fashion trends and different fabrications.
Saben says bags are in 24 of the larger Warehouse stores, and retail from $29 to $89. They are mainly made in China whereas the Saben designer range is made largely in Indonesia, New Zealand and China.
One of the simple upsides to the Warehouse relationship is that Jacobson gets to design more.
While her two children are young, Jacobson is biding her time before she expands further. But don't underestimate her ambition. "I would like to go further, it's always been a dream to go to London and Hong Kong," she says. New York too, of course.
Her next step is to find someone who can help her grow.
"I would love a more established mentor," she says, "someone with an understanding of the creative industry."