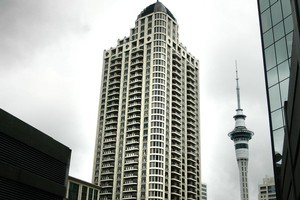 Lawyers representing troubled property developer Andrew Krukziener and his creditors were in the High Court at Auckland today to discuss details of a three-day hearing to be held next month that will determine whether he will be bankrupted or not.
Inland Revenue has filed a bankruptcy application against the well-known Auckland property developer but Krukziener is still trying to stitch a deal together with his creditors that would avert bankruptcy and see them paid out.
The exact amount in the dollar that Krukziener has offered his creditors has not been confirmed.
The deal has yet to be approved by the court but a hearing on the matter, scheduled for November 18, could seal the deal, which would save the former rich lister from bankruptcy.
The IRD's bankruptcy hearing was put on ice until another case also involving the IRD was resolved.
In November, 2009, the Taxation Review Authority successfully argued that loans of $5 million paid to Krukziener between 1991 and 2002 from his trusts should be assessed as income.
The judgment against him for $575,000 noted he did not receive a salary then and paid very little tax.
According to the judgment Krukziener said most of the loans had been repaid and fringe benefit tax had been paid on the interest-free loans. He claims the loans were capital and not salary.
He said his group entities rolled over profit from one development to the next, so eventually there would have been significant tax paid but this did not happen because the Metropolis tower in central Auckland failed.
Krukziener took the IRD to court to appeal the decision and lost last month.
Krukziener has not indicated whether he will appeal that High Court decision delivered by Justice Patricia Courtney.