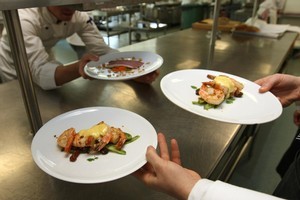 More than 24,000 people will need to enter the hospitality industry over the next four years to keep up with the sector's expected growth and meet customer service standards, an industry body claims.
The Hospitality Standards Institute commissioned a survey on the industry, which employs 126,000 people and contributes 2 per cent to New Zealand's gross domestic product, to identify areas where the sector can improve.
The institute oversees the training for 10,000 chefs, baristas, managers and bartenders each year.
Chief executive Steve Hanrahan said it was focusing on improving training and the industry's skills shortage. Today, a conference will be held for industry leaders to discuss the findings of the survey and challenges facing the industry, which is predominantly made up of small businesses.
"We believe we need good solid research to drive and monitor trends in the industry. This is a forum to get that information into the public [arena].
It creates a solid base of data that we can make decisions on.
"Generally, our level of service in New Zealand is pretty good. When people come from overseas, they often talk favourably about the level of service and the food. I think we have a very high level of cuisine.
"Generally the service around New Zealand is good, but we want to ensure the consistency - that is an area we are focusing on at the moment."
Hanrahan said he hoped the research would help the organisation track movements from and to the industry and reveal the reasons why people leave.
He said the Rugby World Cup would create a two-month spike for the industry next year and that the organisation was not worried about labour - but rather skills - shortages.
"We've had a look at where the skills needs are for the RWC. There will be a lot of people coming from overseas with high expectations. We've developed a training programme [to that end] with the catering industry."