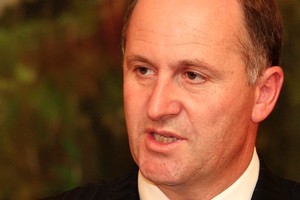 John Key seemed to capture the mood a few months ago when he mused about risk of New Zealanders becoming "tenants in their own land".
That followed the debate around the Chinese-funded bid for Crafar Farms and prompted the Government's review of large foreign purchases of farmland.
Key is an excellent sniffer of public opinion and economic trends, and not just in New Zealand.
The concern about China using its foreign reserves to roam the planet buying supplies of the commodities it needs is global. The World Bank published a report this year about the risk of China and other large surplus nations buying land in developing countries.
China has built up the biggest foreign reserves in the history of the world in the past 10 years, increasing them from US$165 billion ($220 billion) to US$2.4 trillion. It did this by holding its yuan or renminbi currency relatively low to encourage its exporters.
It seemed to work a treat for American companies, which moved their factories to China to increase their profits. Many paid out those profits to themselves in bonuses and high salaries and laid off skilled workers. It seemed like a good idea. It depended on the theory America would reinvent itself - as it has done before - through a process of "creative destruction".
Now as the tidal wave of easy money has gone out, it is clear to most Americans their economy has been hollowed out and most have been made poorer.
Real wages for America's middle and under classes stagnated or fell through much of the 2000s, but they kept spending.
Bankers in Manhattan were lending money hand over fist and paying themselves big bonuses. Those bankers were borrowing their money from China. It was a big money go round that left China holding a lot of US Treasury bonds and Americans in debt.
This worked well for both countries until America's debts built up to unsustainable levels. The global financial crisis was triggered by America's realisation it had borrowed too much. This imbalance of trade and capital flows must be turned around if the global economic system is to be sustainable.
That's why there is pressure on China to allow its currency to rise against the US dollar. That would allow the automatic stabilisers to kick in. A higher yuan makes Chinese exports more expensive and American imports cheaper, helping to boost the US and slow down the Chinese economy.
But China is refusing to quickly revalue its currency because the Government benefits from the growth of these factories. They have helped lift wages to keep the populace happy.
China is hunting for other places to put its cash rather than the US dollar, which is about to be devalued by a flood of money printing. Key, a former currency trader, is more aware than most of why China and other holders of increasingly worthless US dollars want our land.
This weekend, finance ministers meet in Washington to talk about these "Currency Wars". We can only hope they can cajole China into allowing its currency to float higher.
If they can't, we must be ready to deal with a flood of these newly minted US dollars looking for food-producing assets.
Key is right to worry about our ability to keep control of those assets.