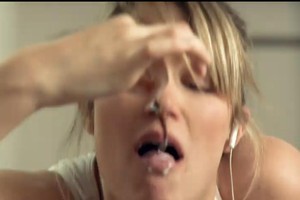 Dairy giant Fonterra is "preserving all options" for response to an online Greenpeace advertisement extensively using Fonterra's branding and linking its products to rainforest destruction.
The ad is playing on some New Zealand websites and Greenpeace is mobilising members and green networks to make it "go viral", in an effort to force a reaction from New Zealand's largest multi-national company, which is under fire for sanctioning the use of palm kernels as a dairy feed supplement.
A global supply of palm kernels is available from oil palm plantations, which are supplanting rainforest in countries such as Indonesia.
Among the effects is the destruction of habitats for orang-utans.

The spoof ad shows a jogger, played by a former Shortland Street star choking on an orang-utan hairball while drinking from a bottle labelled "Fonterra Milk" and using Fonterra's heavily trademark-protected logo.
"We are not happy about the misuse of our logo and branding," a Fonterra spokesman said.
Asked whether legal action had been considered, he said Fonterra was "preserving all options."
The dairy industry has argued pine nuts are a previously valueless by-product of the palm oil industry and should be accepted as a feedstock. Greenpeace has targeted Fonterra in New Zealand, knowing the company is highly sensitive to protecting its global image as a safe, environmentally ethical New Zealand producer.
"So far, Fonterra is trying to ignore it and hoping we'll go away," said Greenpeace climate change campaigner Nick Young.
"Let's make sure that tactic doesn't work."
ON THE WEB

greenpeace.org/new-zealand/