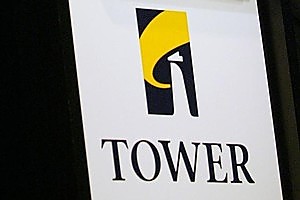 Tower's move to bid for rival insurer Fidelity Life Assurance without securing support from Fidelity's major shareholders has left some wondering whether it has some underlying plan which has yet to be revealed.
Some in the market are speculating that Tower is using the takeover process to get a look at Fidelity's books, although so far the privately listed firm has refused to release information that is not publicly available.
Others believe Tower, which is 35 per cent owned by Guinness Peat Group, is under immense pressure to appear to be doing something to acquire a business after raising money from shareholders more than a year ago.
The intention of offer which values Fidelity at $118 million has been called low by shareholders.
And the two largest shareholders, which represent 70 per cent of the business, have said they won't accept it.
But one market commentator said he thought the bidding process would eventually flush out a buyer - it just may not be Tower who gets the deal.
A combination of Tower and Fidelity would push Tower up the ranks to third largest life insurer in New Zealand and it may be that another competitor would be keen to stop that from happening.
It will be interesting to see what value the independent report places on Fidelity and whether an offer within the recommended range will be enough to change shareholders' minds.
Tower shares closed down 1c yesterday on $1.82. It has traded in a range of $1.66 to $2.19 this year.
GPG UNDER SCRUTINY
Just when Sir Ron Brierley's Guinness Peat Group looks set to get out of hot water with its shareholders it seems the regulator has cast its eye on the company.
Stock Takes hears the Securities Commission is investigating the company's recent talks with its shareholders.
Sir Ron flew to Auckland in August to meet with institutional investors and shareholder representatives and it seems the commission isn't happy with the behind-closed-doors aspects.
The commission is understood to be in talks with some shareholders.
But when asked why it was investigating GPG the commission would only give its standard response: "We can neither confirm nor deny whether the commission is or is not investigating."
Oh good - so just more talking behind closed doors then. GPG shares closed steady yesterday on 71c.
COMPLETE SILENCE
Plans to float tree seedling bio-tech company ArborGen in the United States have left investors in NZX-listed Rubicon asking what it means for them.
Rubicon owns a third of ArborGen with two other US-based firms owning the remaining two-thirds.
ArborGen has filed a registration statement with the US Securities and Exchange Commission (SEC) for a proposed initial public offering, which could raise up to US$75 million ($101 million).
But under SEC rules none of the companies are allowed to talk about the float or what it could mean for their businesses.
It won't be until the prospectus comes out that the silence will be broken. Stock Takes understands it's likely to be at least three months until the prospectus is complete so investors have a long wait.
Rubicon shares closed up 1c yesterday at 81c.
DOWN IN THE DUMPS
Shareholders in Allied Farmers showed their disappointment in the audited year-end accounts this week with the share price dropping down to a new low of 2.2c.
Managing director Rob Alloway has maintained a brave face in spite of a report which questioned whether the company can continue as a going concern.
But as one concerned investor pointed out, the auditor's report is not the only worrying part contained in the accounts.
Buried on page 56 under bank borrowings it is revealed that there are still some legacy issues to be worked through with the former Hanover and United Finance loans.
The group's asset management services, which contain the Hanover loans, has borrowings from three banks which total $29.7 million but Allied has yet to receive consent to transfer the property assets from two of the banks on to its books.
"There are breaches and events of default under the facility agreements in relation to these ex-Hanover Finance borrowings. Should these breaches not be remedied, the banks can take enforcement action, including appointment of a receiver to the property holding company," Allied says in the accounts.
Not surprising then that Alloway has said he now wants to focus on the debt restructuring of its subsidiary businesses. Allied Farmers shares closed up 0.1c yesterday at 2.3c.
SWIFT JUSTICE?
A director for Insured Group - the Perth-based company which listed on the stock exchange through a reverse takeover of Lombard Group - has resigned, just a day after it was fined by the NZX.
The company yesterday said Trevor Jacobs would step down as both director and company secretary effective immediately.
Insured Group was handed out a $7500 penalty on Wednesday for having only one director resident in New Zealand for about a month from June 11.
Under NZX listing rules issues must have at least two directors resident in New Zealand.
The company had received a waiver but it only lasted three months from when the reverse takeover occurred on March 10.
Insured Group said the breach was due to a misunderstanding about when the waiver period expired and argued that the terms and conditions of the waiver were not drawn to its attention by the NZX.
By implication the company suggested it was NZX's responsibility to do that but the NZ Markets Disciplinary Tribunal said it did not accept that implication.
Shares in Insured Group are currently on the NZX at 0.1c.