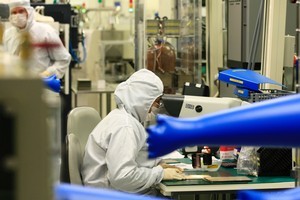 High-tech crystal manufacturer Rakon has had a record quarter in its UK operation - partly on the back of a global rollout of mobile-coverage technology that incorporates the Kiwi firm's products.
About 800,000 units were shipped out of the British operation in the three months to September, the company said, although it was not releasing the financial details of the quarter.
Rakon acquired its British operation - which specialises in the manufacturing of temperature controlled Pluto TCXO and TC-OCXO crystal oscillators - in early 2007 for $58 million.
The Pluto TCXO, which is also manufactured in Auckland, is a vital component of femtocells, which can improve mobile network coverage.
Rakon chief executive Brent Robinson said telecommunications companies Vodafone UK, AT&T in the United States and Japan's Soft Bank were rolling out femtocell technology.
"Soft Bank are giving [femtocells] away," he said.
Rakon was supplying the TCXO crystals for the femtocells used by all three corporations, which was in turn helping drive the record sales out of the British plant.
Robinson said Rakon had identified future growth in the femtocell market when it first acquired the UK operation, he said.
"We are very pleased to see these strategies now bearing fruit."
Robinson said the outlook was strong for the femtocell market.
"Femtocells are only just starting to take off now," he said.
"There's lots of networks that have announced femtocells. Only three are really rolling them out at the moment, but there's a whole list of networks that have said they're going to roll them out."
Telecommunications providers were also introducing new, higher bandwidth networks as they sought more capacity to avoid data overload.
These upgrades also incorporated Rakon's products from the UK plant.
Robinson said: "This is good news for Rakon as we had earlier identified this potential and have moved swiftly to gain market share."
Philip Davies, business unit manager for Rakon UK, said the record quarter marked the highest quantity of products shipped since the company was originally founded.
It also represented a 300 per cent increase on the volume shipped from the UK business in the quarter immediately following Rakon's acquisition in 2007.
LITTLE EARNER
* Femtocells are small base stations, installed in homes or businesses, which provide improved cellular coverage through connecting to a mobile network via broadband internet.
* Rakon says the technology can also provide telecommunications providers with extra capacity on their network at a low cost.
* A critical component of femtocells are crystal oscillators, made by Rakon.