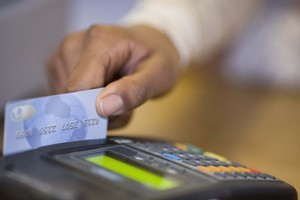 Kiwis pushed an extra $35.8 million through the tills in a last-minute rush to beat the GST rise, figures just out show.
Paymark, which processes three quarters of all electronic transactions in New Zealand, said petrol stations, supermarkets, and building suppliers were the biggest winners last Thursday.
Predictably petrol stations received a 44 per cent boost in business when compared to transactions on the same day last year, followed by supermarkets, where transactions were up 33 per cent.
Collectively the two sectors pulled in an extra $14 million in on the day.
Paymark head of sales and marketing Paul Whiston said the rush on sales was a welcome cash bonus for retailers late in the year.
"Our figures show that whilst the build-up occurred over a few days prior to October 1, Kiwis waited until the last minute to take advantage of sales and pre-GST prices," said Whiston.
"Once they got out to the shops on Thursday they made the most of the lower prices and it's pleasing to see that most retailers across the country experienced significant gains.
Palmerston North experienced the biggest surge on the day, with transactions up 45.9 per cent, Whiston said.
The GST hike also provided DIY enthusiasts with the perfect excuse to stock up on supplies, with both building suppliers (up 145 per cent) and hardware suppliers (up 207 per cent) recording a bumper lift in sales.
Travel agents were up 46 per cent and electronics stores experienced an 89 per cent increase, after a 'slow few days prior to Thursday', Paymark said.
The petrol, supermarket, building, hardware, travel and electronics sectors accounted for about three quarters of Thursday's total cash injection.
The remaining sectors enjoyed an average 12 per cent lift.
While the cash injection was a welcome boost for businesses, the one-day spending had little effect on overall performance across September, Whiston said.
Transaction volumes across the country were steady at 4 per cent, while value was up 3.6 per cent year-on-year.
"Despite the extra dollars pushed through our network on Thursday last week, September remained relatively flat throughout the country. The majority of regions are experiencing mixed growth patterns, which we have seen a lot of this year," said Whiston.
By region, Gisborne, South Canterbury and Palmerston North experienced the largest gains in terms of value, increasing 7 per cent, 9.9 per cent and 9.7 per cent year-on-year, respectively.
- NZ HERALD ONLINE