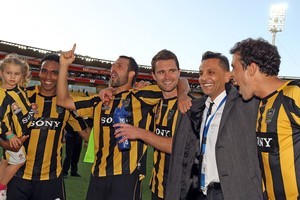 Former Trade Me owner Sam Morgan says there is no truth in the rumour he and Infratil chairman Lloyd Morrison are keen to buy the Phoenix.
Morgan, who highlighted that he once won most improved player for his under-11s side, denied the gossip, but even if current owner Terry Serepisos sees his empire crumble, the chances of professional football being lost to New Zealand appear slim.
New Zealand Football bosses are aware of a handful of people interested in taking over the Phoenix if Serepisos wanted out.
The Wellington Phoenix owner is coming under increasing scrutiny because of cash-flow problems and last week was threatened with legal action until banking a $260,000 cheque with ACC to cover player levies. He also has a $1.4 million rates bill to pay, although it is not yet overdue.
Serepisos rode in as the white knight to save professional football when the New Zealand Knights went bust in 2007. Others now seem willing to do the same, should Serepisos ever opt out.
Rumours suggested Morgan and Morrison were interested in taking over the Wellington Phoenix, but not as junior partners; only if Serepisos relinquished control.
The club has turned into a success story of New Zealand sport and raised the profile of football in this country. It has come at a cost to Serepisos, who loses up to $1.5 million annually, although there is a hope they might break even this season.
It's unlikely, however, Serepisos would ever want to give up the club. He enjoys the profile it brings him and wouldn't be keen on walking away now, given the millions he's already invested.
He is said to be warming up to the idea of bringing in other investors - the model of single owners isn't working in the rest of the A-League - but won't want to dilute his ownership. It's also questionable whether many would want to invest with Serepisos because he likes to be in control.
Serepisos is undoubtedly asset-rich with a significant property portfolio but it's unknown how big his debts are and how they contribute to his cash-flow issues. He has never missed payments to Phoenix players and staff but they have often been a day or two late.
NZF has also loaned him significant money in advance of payments due to the club. These have included money from Fifa paid as compensation for having players at the World Cup as well as advances from the FFA for TV rights. Because this is money that is guaranteed, there is no risk to NZF.
The national body is helping fund the Phoenix reserve team, who will play a midweek game against each of the eight Premiership sides (formerly NZFC).
But there are no suggestions of impending doom and NZF hs no reason to believe the Phoenix is in trouble.
For all of Serepisos' cash-flow issues, he was still able to find $260,000 to pay the ACC bill and he has also brought in players like midfielder Nick Ward and goalkeeper Danny Vukovic above the minimum requirement of 20 players.