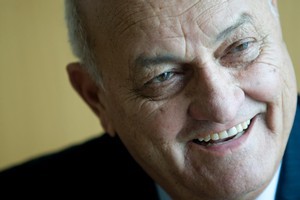 Unlike other Kiwi billionaires, we think we know Owen Glenn.
He's famous for his philanthropy - he gave $7.5 million to the Auckland Business School and they named the new building after him.
He's giving $3.85 million to the Millennium sporting institute and they are naming the aquatic centre after him.
And he's famous for those political donations that sparked a scandal which, some would say, brought down Winston Peters.
But we don't really know much about Glenn the businessman - the sheer scale of his empire and his success as an entrepreneur.
Perhaps that's because he made his money in the unglamorous industry of freight and logistics. But then, Graeme Hart lives and breathes cardboard and we lap up every snippet of his progress.
And it is odd because, unlike Hart, Glenn is not famous for being shy.
Ask him to explain what the logistics industry is and he'll tell you how he invented it.
Actually, he'll tell you how someone once credited him with inventing it, which is a clever way of saying the same thing without sounding too brash.
Either way, it doesn't matter - the story he tells to support the claim is remarkable. Glenn clearly played an important role in the birth of the modern freight and logistics industry.
"It was a particular situation in the Western states of the US," he recalls. The year was 1971 and Glenn was working for a London firm dealing with a group of pioneering US computer companies that needed to get their circuit boards to Asia.
"I got the idea of flying a cargo freighter - and in those days there were only about four in the world. So we chartered it and filled it up with equipment from about eight companies and flew it to Singapore. We worked on it 24 hours and raced all the stuff to the various factories and we flew it back. That was how we did it and I thought of that."
It was a great idea but it didn't make him a billion dollars. Later that decade he'd find himself back in Australia, unemployed and unable to get a mortgage. He went into business for himself.
Now in 2010, what a business it is.
OTS Logistics Group - of which he is the founder, owner and executive chairman - has 3000 staff, 177 offices in 105 countries and turnover of more than $1 billion.
And, he says, it's booming. In rapid succession he drops details of four major deals he's just done.
He has partnered with a Belgian company to set up operations in Kazakhstan and done a groundbreaking rail deal to cut out the middle-men on the border and send freight from the US straight into Mexico.
Then there's the IT launch which will see his customers equipped with hand-held devices to book and track orders in real time anywhere in the world.
"They're going to cost $500 each and first distribution is going to be 6000, so that's $3 million."
And the biggest of all - he just signed a contract with Caterpillar, the US bulldozer giant. His PR adviser says he wasn't supposed talk about that but when Glenn is in full flight there's no stopping him
"Its the biggest single account we've ever got. It will add a third to my business," he says.
Glenn says his business returns ebitda of 5 per cent on its annual revenue (at least $67 million in pre-tax profit).
Ebitda stands for earnings before interest, tax depreciation and amortisation. But depreciation and amortisation only cost you if you have a lot of assets, which Glenn's companies don't.
That's the beauty of logistics, he says. You shift the freight but you don't have to own the ships.
"Anybody can put it on a truck, logistics is knowing where it has gone. It's the management of freight."
And then there is interest - or the cost of carrying debt. That's easy, Glenn says he doesn't have any.
His approach to expansion is, in that sense, conservative to the point of being highly unorthodox.
"We've always self-financed. We've always developed out of our own profits, we don't leverage up. The difference is that when you come in to hard times, you're not beholden to banks or financing assets. You just tighten your belt ... as long as you protect your margins"
Which is, he says, why the global financial crisis was not a game changer for his company.
Volumes did fall fast and revenue dropped 20 per cent. But without debt and major assets he was able to shrink the business rapidly. And now he's expanding again.
"The volume just switched off so we had to let people go."
Glenn says he could see the crisis coming, at least from about four months out.
The company pulled back on all expansion plans except for IT and it rationalised a lot of jobs - a process Glenn describes with a dispassionate sense of purpose.
"We had to displace people. What I did do was accelerate a programme that we had started in China about 5 years ago. We have about 180 people there and it's going to grow to 240. These people work 24/7 and do all the backroom work ... paper work and stuff.
"The average pay is $5000. If you employ those same people in the Western World you have to pay $50,000 a year. So we save $45,00 a year ... we also opened up in Chennai in India where we have 80 programmers working on IT initiatives.
"Funnily enough, a lot of the people we had to let go couldn't get jobs anyway. Because everything was so flat. So now they've come back. But we survived it all right."
The way Glenn tells it, the global financial crisis sounds like a bit of an adventure.
It's not hard to see why he and Winston Peters got along - at one time anyway. Like Peters, Glenn knows how to tell a story. In fact they both spin yarns with similar inflection. And both punctuate their one-liners with that hard-edged chuckle employed to great effect by Sir Robert Muldoon.
Glenn lives his life like an adventurer. Perhaps because of a difficult childhood. He was born in Calcutta and sent to a Catholic boarding school in the Darjeeling region. His experiences at the school were so grim they are not for publication, he says.
The nuns "were frustrated old bitches," he says. "You can print that."
After the partition of India, the British community had to make a choice about citizenship. His father took the family down to Australia and New Zealand on a scoping mission when he was eight. They picked New Zealand and returned for good when he was 11.
Surprisingly - given his lifelong passion for this country and the amount he's put back in to it - New Zealand was not a land of opportunity for him. His big breaks would come later in Australia and the UK.
"I left school at 15... my father was very ill so I never had a chance to go to university.
I used to drive down Symonds St on the trolley bus ... and I'd see all the students and I used to really have a heart attack about it. I'd think, 'God I'd love to be increasing my education'. That stuck in my craw."
It was one of the reasons he later sent himself to Harvard and decided to back the Auckland University Business School.
Like so many young Kiwis, he worked a while in a dead-beat job and then headed for London on his big OE. That was a traditional experience too.
"I worked as butcher, plumber, a fruit packing plant ... I drove a lift in Harrods and, in a way, going and looking for jobs and applying and coping was character building."
When he got back he took a job with Teal - later to become Air New Zealand - because he wanted to keep travelling.
Instead, he got stuck in the freight department. Rather than be frustrated by that, he says, he decided to learn the business inside out. That decision has led him to a life of almost constant travel.
He is based in Monaco but it doesn't sound like he's there much. He says he's generally at large on his super-yacht and also spends a lot of time in America where the OTS head office is based. His philanthropic work regularly takes him to Asia and the Pacific.
At 70, shouldn't he be slowing down?
"Well I should," he says. He has a pace maker which he's told is 90 per cent in use.
"So when the battery goes, I go," he jokes. "I get bored."
After doing some business in Singapore next week he'll head to Delhi for the Commonwealth Games where he'll supporting the Kiwis.
"Mention that because people sometimes ask if I'm really a Kiwi," he says.
Then he'll head up to northeast India which is where his foundation does most of its work. "You leave your heart there - these poor kids."
Then it's Hong Kong for a management meeting and back to Australia for the Melbourne Cup. He has a horse he hopes will win - it's already won the Caulfield Cup and some other big races.
Glenn doesn't want to talk about political scandal - he says it's yesterday's news - but can't resist a bit of a political jibe.
The horse is called Monaco Consul - named after the diplomatic position he was offered by Winston Peters.
"I only named the horse that to annoy him," he says "And when he won I thought, thank you Lord."
Owen G. Glenn
* Founder owner and executive chairman of OTS Logistics Group - a billion-dollar revenue company with offices in 105 countries
* Born: 1940, Calcutta
* Moved to New Zealand aged 11 (after an extended stay here aged 8)
* Education: Mt Roskill Grammar (left aged 15), Harvard Business School
* Family: Married twice with 6 children
* Lives: Monaco - although he spends much of his time travelling the world
* Philanthropic interests: Founder and chairman of Glenn Family Foundation a charitable group active in several countries including the US, UK, Australia, India, Nepal, Philippines, Fiji, China and New Zealand
www.twitter.com/liam dann