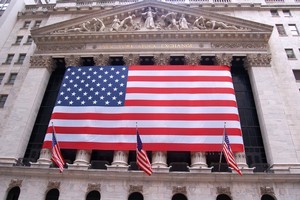 American business activity picked up pace in September while initial jobless claims fell last week, reducing speculation that the Federal Reserve will extend its quantitative easing measures.
The Institute for Supply Management-Chicago's business barometer rose to 60.4 last month from 56.7 in August on a scale where 50 divides marks the divide between expansion and contraction.
Economists had expected a decline to 55.9, according to a Reuters survey.
Labor Department figures showed initial jobless claims fell by 16,000 last week, about three times as much as the forecast 5,000 decline. US gross domestic product in the second quarter was revised to a faster-than-forecast annualised pace of 1.7 per cent, from 1.6 per cent.
The fed is scheduled to meet on November 2-November 3 and could trim the size of its purchases of government debt and mortgage securities.
So far, the fed has added US$1.7 trillion to the world's biggest economy via such purchases.
"They are going to see how the data unfolds and possibly put a smaller quantitative easing program on the table at the next meeting," Troy Davig, a senior US economist at Barclays Capital in New York, told Reuters.
The better-than-expected economic reports helped stem the US dollar's decline from the lowest level in almost six months against the euro and the least against the yen since Japan intervened to weaken its currency on September 15.
The dollar traded at $1.3614 per euro, from $1.3627, having weakened to $1.3683 earlier. The greenback slipped to 83.42 yen from 83.70 yen.
Copper futures fell in New York as the greenback stemmed it slide, reducing the appeal of commodities as an alternative investment.
Copper for December delivery edged down 0.3 per cent to close US$3.6515 a pound on the New York Mercantile Exchange, rounding out a 24 per cent quarterly advance.
Crude oil rose to a seven-week high as better US economic figures stoked optimism demand for fuel will pick up pace. Crude for November delivery rose 2.4 per cent to US$79.75 a barrel in New York.
Stocks on Wall Street were mixed as some investors took profits on companies that led the biggest September rally in more than 70 years.
The Standard & Poor's 500 Index edged up 0.01 per cent to 1144.68, having advanced 8.8 per cent in the month. The Dow Jones Industrial Average slipped 0.2 per cent to 10818.82.
Caterpillar, which makes heavy earth-moving equipment, fell 1.8 per cent, leading the Dow lower. The company had soared 20 per cent in September.
SanDisk Corp. paced declines in semiconductor makers, falling 2.7 per cent.
AIG rose 4.2 per cent after announcing it plans to repay government bailout aid faster than expected. Under the proposal, the US Treasury would convert some of its AIG securities into ordinary shares, lifting its stake in the insurer to 92 per cent from 80 per cent, selling down its holding over time.
The deal, slated to be concluded in the first quarter of 2011, could generate a profit of US$16.5 billion for taxpayers, from a previous estimated loss of US$45 billion, Reuters reported, citing a official in the Obama administration.
Profit taking was also evident in Europe, where France's CAC 40 slipped 0.6 per cent to 3715.18 and Germany's DAX 30 fell 0.3 per cent to 6229.02.
The U.K.'s FTSE 100 fell 0.4 per cent to 5548.62.
Also weighing on Europe's equity markets, Ireland said it may cost more than 50 billion euros to bail out its distressed banks, forcing the government to widen budget cuts.