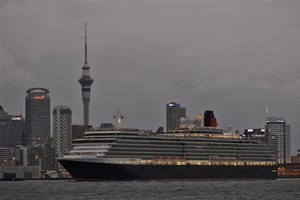 Cruise industry passenger numbers are forecast to grow dramatically in the next two years and pump hundreds of million of dollars into the economy, according to a new study.
Passenger numbers are predicted to be about 199,900 in the 2011/12 season, compared with about 138,200 and 109,951 in the 2010/11 and 2009/10 seasons respectively.
Cruise New Zealand chairman Craig Harris said bigger ships and more visits were the reason for the growth in numbers.
The industry was expected to inject $346 million into the economy during the 2011/12 season, including 5606 jobs.
"Our ongoing forecasts show cruise is on track to become New Zealand's third-largest inbound tourism market by the end of the 2011/2012 season.
"However, without guaranteed investment in cruise infrastructure, particularly in Auckland, the potential for increased growth to continue [is] minimal," Harris said.
Sydney and Auckland were the two established South Pacific hubs because airline capacity and hotels allowed people to embark and disembark from ships. Auckland's Princes Wharf was no longer adequate, Harris said.
"Because we've got a large number of people and they're quite high value we need to start treating them the same as we treat people at an airport when they enter or leave the country.
"At the moment we're just putting them through very substandard and not-fit-for-purpose facilities."
ARC chairman Mike Lee said that in a tough economic climate "there was substantial opportunity for Auckland to benefit from the cruise ship industry".
"Auckland clearly needs a new, attractive, fit-for-purpose international cruise ship terminal," he said. "Auckland has to take this opportunity seriously."
Using an upgraded Shed 10 on Queens Wharf as the basis for a new cruise ship terminal could cost about $15 million, which had already been budgeted for, he said.
"There has been some misinformation put around town, probably as part of the election silly season, that having people and cruise ships together is somehow incompatible. We couldn't disagree more strongly."