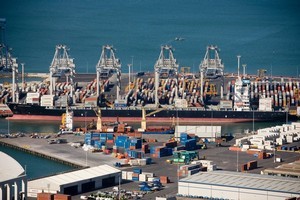 Exports were up 15 per cent or $405 million in August from a year earlier to $3.2 billion, led by higher prices for dairy products.
Imports last month were up 3.6 per cent or $126m to $3.6b, leaving a trade deficit in August of $437m, or 14 per cent of the value of exports, Statistics New Zealand (SNZ) said today.
The August trade balance was typically negative, with last month's deficit half the average of the five August months before 2010.
The milk powder, butter and cheese category recorded the largest increase in exports last month compared to August last year, rising $136m or 38 per cent due to higher prices, SNZ said.
Cheddar cheese and some butter varieties also contributed significantly to the rise.
The second largest rise in exports was for aircraft, which lifted $54m due to the re-export of large aircraft.
Next was the logs, wood and wood articles category, up $40m or 19 per cent, led particularly by pinus radiata logs and sawn or chipped pinus radiata, SNZ said.
The largest fall in exports was crude oil, down $42m or 24 per cent, while fruit exports fell $38m or 24 per cent.
Meat and edible offal exports recorded the lowest August value since 1998, dropping $20m or 7.6 per cent from a year earlier to $242m led by a fall in frozen lamb cuts with bone-in.
Among imports, the largest increase was in capital goods which were up $65m or 12 per cent, due to a $66m or 14 per cent lift in machinery and plant, SNZ said.
The second largest rise in imports was for cars which gained $63m or 32 per cent to be similar in value to August 2008.
Consumption good imports rose $57m or 6.1 per cent, mainly due to durable goods and semi-durable goods. Durables include textiles, household appliances, lawnmowers, televisions and furniture, while semi-durables include items such as glassware, clothing and footwear.
The largest fall in imports was recorded by intermediate goods, which fell $67m or 4 per cent. Falls in parts and accessories of transport equipment, and processed fuels and lubricants (other than motor spirit) were partly offset by rises in processed industrial supplies and crude oil, SNZ said.
For the year ended August there was an annual trade deficit of $866m or 2.1 per cent of exports. That compares with an average deficit of 15 per cent of exports for the five previous August years.
For the three months to August exports were up $1.4b or 15 per cent from a year earlier to $10.5b, while imports lifted $526m or 5.1 per cent to $10.9b.
- NZPA