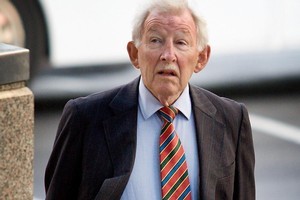 The shake-up in the board of Sir Ron Brierley's Guinness Peat Group is long overdue and will be welcome news for shareholders who've been frustrated about the governance of the company for some time.
Stock Takes understands initially investors had pushed for two directors to step down from the board with three new independents to replace them.
But the board wasn't happy with the loss of two and one can imagine none of three executive directors were keen to put their hands up to step down.
Three of the four independent directors - those who are from New Zealand - were part of a list put forward by local institutions and retail investors who banded together to push for the change.
The fourth Australian director is understood to have come through a suggestion made by the advisers to GPG and after vetting, was agreed to by Kiwi shareholders. The question now is how well the new seven man board will work together?
Stock Takes would love to be a fly on the wall at the first meeting where the independents stand up to the executive directors. Also under the spotlight is whether Sir Ron will continue as chairman. A spokesman for GPG declined to answer the question. GPG shares closed steady yesterday on 67c.
WHAT'S THE BOTHER?
Accusations have been flying this week over Simon Botherway's alleged conflict of interest over the appointment of statutory managers to Allan and Jean Hubbard and their associated entities.
Labour finance spokesman David Cunliffe has called for Botherway to resign from the Financial Markets Authority's establishment board after Hubbard's supporters group this week revealed the chief ombudsman Beverley Wakem is investigating whether the Securities Commission followed the correct procedure in dealing with the potential conflict of interest.
The alleged conflict centres on Botherway's brother and the fact that his hospitality businesses were placed into receivership by South Canterbury Finance - an entity that was majority owned by Allan Hubbard but has not been placed into statutory management.
However, Stock Takes understands it was Lion Nathan that originally appointed the receivers and it only passed to South Canterbury because they were the main debt-holders.
Botherway is thought to be flabbergasted by the accusations levelled by such a senior political player. Comments made by Hubbard's supporters are not such a surprise but Cunliffe has given them credibility by bringing them into the House.
Botherway is known to value his reputation very strongly and such strong accusations will be a personal blow that will likely make him think twice about taking on such as public role as chairman of the Financial Markets Establishment board.
It would be a shame to lose a person who is trying so hard to improve the protection of investors to such a side issue.
HEALTHY SPECULATION
Abano Healthcare's share price has been rising steadily this week on more speculation that its investment in Australia hearing business National Hearing Care could benefit from a potential float.
The Australian Financial Review's Street Talk column reported that a decision was expected to be made next week on whether NHC will go to an initial public offer or be sold through a trade sale. Abano and interests associated with Peter Hutson own an aggregate 13 per cent stake in NHC on a 50/50 basis. The main owner is private equity firm Crescent Capital which last year failed in its takeover bid for Abano.
According to the AFR analysts have already been pricing up the offer with Macquarie valuing it at around A$514 million.
Abano shares closed at $5.10 last Friday and have since traded as high as $5.25. Shares closed down 5c at $5.15 yesterday.
NORGATE SELLS UP
Craig Norgate - seen as a driving force behind the establishment of New Zealand Farming Systems Uruguay - has sold most of his shares into the offer made by Singapore agricultural firm Olam International.
An announcement to the stock exchange on Tuesday shows Norgate's company MCN Holdings sold 600,000 of its 615,000 shares to Olam netting $420,000 at the 70c per share offer rate.
It must have been a tough decision for Norgate who worked hard to get the business going as chairman of PGG Wrightson and has been part of the Farming Systems board which originally was strongly opposed to investors accepting the offer. However, by Tuesday the writing was obviously on the wall and Norgate decided to throw most of his hat into the ring.
Olam declared its offer unconditional on Monday after getting over the 50 per cent threshold. Yesterday its acceptances were up to 63 per cent. PGW shares closed steady at 58c yesterday. NZ Farming Systems eased 1c to 69c. The offer closes today.
NO THANKS
Plastics and resin-maker Nuplex's talk of changing its listing domicile to Australia has upset Kiwi investors who last year pulled the company back from the brink by pumping more money in.
Retail and institutional investors are understood to have put pen to paper to express their displeasure at the move and are now waiting to see how the company will respond.
Nuplex first signalled its intentions at its annual general meeting last year but now the topic has come up again it seems to be firmly on the agenda.
The company has put forward arguments for the move saying that it will attract more capital in Australia allowing it to grow.
But the feeling from investors is that the move is being touted because most of the board are Australian-based. Some sources have suggested that the situation could be remedied if at the next AGM some of the Australian directors are removed and replaced by Kiwis.
Stock Takes waits with interest to see how the company will respond to its shareholder feedback.
Nuplex shares closed down 2c at $3.44 yesterday.
BY THE BOOK
The Electricity Commission's investigation into the NZX's failure to pay participants in the electricity market on August 20 is moving along at a sedate pace.
The commission has now appointed an investigator and as per the rules has informed the NZX of the appointment.
A good start but not exactly what you would call lightning progress.
Stock Takes also notes the original three complainants have now been joined by five others.
TrustPower, Meridian Energy, King Country Energy, WEL Networks and a joint complaint by Todd Energy and Bay of Plenty Energy have been added to initial concerns voiced by Mighty River Power, Genesis Energy and Contact Energy.
The original allegations stem from a claim that the NZX as clearing house manager failed to make payments due by the 4.30pm deadline.
The clearing manager eventually paid out on the following Monday at 8.30am. But by then the power companies say they were out of pocket.
The NZX has pointed the finger at small participant Pulse Utilities which it claims failed to pay it by 2pm on August 20 triggering the non-payment of all others.
Pulse has rejected the claims saying it made the payment on time.
A SLICE OF ACTION
The announcement by South Canterbury Finance's receivers of plans to appoint an investment bank to sell the failed finance company's assets must have made the industry sit up and grin.
It's likely to be the biggest asset sale deal on offer at the moment and even if some parts won't be saleable there is still plenty that will be attractive to buyers as shown by the nearly 150 parties who have already expressed interest.
It's been a quiet time for some in the industry and Stock Takes is sure all the major players will be putting in a tender for the advisory role. The receivers and industry players have been coy on the cut off date for applications but Stock Takes understands it's likely to be soon.