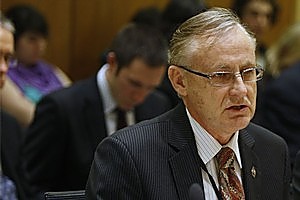 US Presidential candidate Bill Clinton was told in the early 1990s that politics was "all about the economy, stupid.
Today Alan Bollard essentially told us that the economy is all about the debt.
Politics may also soon become all about the debt too.
Underpinning his decision to leave the OCR on hold, Bollard detailed how cautious consumers and businesses now seemed keener on debt reduction than spending more and investing more.
Banks were also more cautious, which meant he could keep the OCR lower for longer.
That's because the low interest rates he had engineered were not having the same stimulatory effect.
Essentially, Bollard was a tad impotent on the way up through 2004 to 2007 because New Zealanders went on a debt-fuelled spending spree.
Now he is similarly a tad impotent because New Zealanders are going on a debt-reduction diet.
This means the debt weighing the New Zealand economy down is now starting to drag on the economy over the longer term.
"Over the past year, despite high and rising export commodity prices, increased employment and economic recovery more generally, household and corporate spending has risen only modesty," the RBNZ said in its September quarter Monetary Policy Statement (MPS).
"As a result, credit growth has been very weak, with household and agricultural credit increasing only slightly, and business credit actually contracting. While borrowers have been quite cautious through this time, lenders have also been quite risk averse," it said.
"A key implication of this caution is that the interest rates faced by households and firms have been providing less support than history would suggest. Furthermore, elevated bank funding costs have caused these interest rates to be quite high relative to the OCR," it said.
"This all suggest that the current level of the OCR is providing much less support than has historically been the case."
This is all about de-leveraging.
We should expect this for years to come.
It means lower growth for longer, lower interest rates for longer and lower asset prices for longer.
This is the new normal.