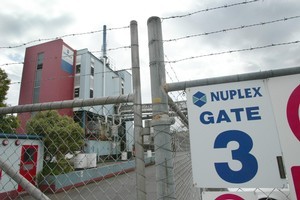 What price loyalty? will be the key question for many Kiwi investors who stuck with Nuplex Industries when it became the first New Zealand-listed company to launch a deeply discounted rights issue during the credit crunch.
It's hard to credit now, but 18 months ago Nuplex would clearly have been in very deep waters - probably belly-up - if large numbers of New Zealanders hadn't backed its turnaround prospects with cold, hard cash.
But on February 21 this year, the Herald reported that "investors who took a bold punt on resin manufacturer Nuplex Industries last March - as a banking crisis threatened to sink the company - have been rewarded with returns of more than 350 per cent. Its shares have risen steadily ... as Nuplex reported some of the best results in its 54-year history as a listed company".
Now the Australian-dominated board wants to shift its domicile away from New Zealand.
Nuplex chairman Rob Aitken used the company's 2010 annual report to signal its directors "are coming to the view" that a change of the company's domicile to Australia - with listings remaining on both the New Zealand and Australian exchanges - would be in the best interests of all shareholders.
New chief executive Emery Severin - who is a former head of US operations for building group Boral - hammered the point home in a subsequent interview (which the Australian newspaper billed as a "first") where he noted the chemicals and resin-maker group's corporate headquarters is in Australia with about 40 per cent of its operations and revenue.
"Our corporate offices are here and ultimately [the move] is about having more liquidity and access to equity markets in Australia," Severin told the newspaper, adding that the Kiwi shareholder base had been very supportive of Nuplex and that no decision to shift domicile had been formally made yet.
But the Australian business media has interpreted Aitken's and Severin's words as meaning the shift to Australia is a dead certainty. After all, Nuplex's corporate team is based there as are four of the six directors - yadda, yadda, yadda.
There is some force to their Nuplex leaders' arguments. Nuplex has only about 10 per cent of its business here.
Aitken claims the move is in the shareholders' best interests, will provide partially imputed dividends to NZ investors and attract more investors through the greater liquidity in the larger Australian market.
Nuplex produced a net profit of $71.4 million in the year to June 30 - a major improvement over the $23.6 million profit recorded during the 2009 final result.
The company says its final dividend of 11c will be paid on October 8. It will be franked to 40 per cent for Australian shareholders, but does not carry New Zealand imputation credits.
It's instructive that the Nuplex board is already Australian-dominated. Aitken - who is chairman and an independent director - is based in Sydney. He joined in July 2006, and became chairman in November 2008 at the time the banking crisis was hitting home.
Melbourne-based Barbara Gibson joined in September 2008. Sydney-based Severin joined as managing director and chief executive in April this year and Sydney-based Michael Wynter joined in April 1998.
The two New Zealand directors are David Jackson (November 2006) and Peter Springford (September 2009).
But the fundamental point is that the company's growth prospects are not based in Australia but Asia. Severin told Australian media that Nuplex has a wide geographical footprint and expects most of its organic growth to come from Asia.
It was looking to double the capacity of its Vietnamese plant and expand facilities at its two sites in Suzhou and Foshan in China. It would also look at pursuing greenfield sites in those same areas as the existing facilities were close to capacity.
New Zealand investors, the NZX and the Government need to draw a line in the sand here.
While Nuplex's financial performance has indeed improved and as it says, its investors have become increasingly confident of the company's prospects and the share price has risen considerably over the past year, there is no reason why it should need to move to drive the next (Asian) phase.
New Zealand does have advantages.
It has a free trade deal with China. Australia doesn't. The FTA could be leveraged to enable Nuplex - as a New Zealand-domiciled company - to get more runs on the board faster.
Greater access to the Australian capital markets may facilitate the group's growth plans. But so would greater access to the Asian capital markets - something which could be leveraged from New Zealand just as easily as Australia.
It is true the percentage of shares held in Australia has increased to 18.4 per cent from 13.3 per cent in May 2009. But the point remains it was the sheer weight of New Zealand shareholders and institutions that ensured the company's survival.
Then there is the corporate tax rate. New Zealand's will reduce to 28c in the dollar, well ahead of the projected timetable for a similar reduction in Australia.
There are problems with dividend imputation - but nothing that couldn't be sorted if Prime Minister John Key works some charm on Australian Prime Minister Julia Gillard and persuades her that it's time the Aussies made good on the single market mantra and agreed to mutual recognition of dividend or franking credits. But the big issue remains what price do we put on having New Zealand-domiciled companies?
Nuplex was the first distressed recapitalisation of an NZX-listed company after the Lehman failure. While it was dual-listed, it is fair to say the Australian side would hardly have had the emotional attachment that Kiwi investors and institutions had when it came to saving a Kiwi company. The share price was 76c when the recapitalisation was announced. It is now about $3.38.
The capital raising was made more complex as the company had been affected by the adverse economic climate in 2008 and breached its senior debt covenant.
But the investors stayed the course.
Not so the Securities Commission which walloped the company, and "certain" past and present directors including one of the commission's own members, David Jackson, by alleging non-compliance with the company's continuous disclosure obligations last year.
Aitken said last week that the Nuplex directors acted in accordance with applicable laws, stock exchange listing requirements and accepted commercial practice and will defend their position vigorously.
"During a period of unprecedented market turmoil, shareholder interests were preserved. These interests will be damaged by the current legal action, and the company estimates it will incur legal defence costs of over $1.3 million."
Aitken will find it easier to rouse investor sentiment on this score if he keeps the company domiciled here.
After the Feltex decision, it is difficult to see the courts throwing the book at the Nuplex directors, particularly when Nuplex's shares would clearly have plummeted if the directors had announced a covenant breach before settling terms with their bankers. The upshot would have been the Nuplex shareholders' parcels would have been worth less, and much more equity would have had to be raised to recapitalise the company.
Go figure.