The Project Auckland series looks at the challenges facing Auckland as it seeks to become a world-class city.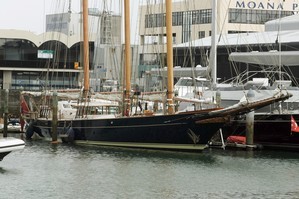 It is a world of glamour and wealth - superyachts racing in warm breezes of a Mediterranean summer or cruising among the island resorts of the Caribbean. And a growing number of these beautiful vessels are built and maintained right here in Auckland.
In the last 20 years or so there has been a massive increase in the number of wealthy people choosing to invest in larger and larger yachts, mostly professionally crewed sailing vessels but with a sprinkling of luxurious motor yachts as well. The generally accepted minimum length of a "superyacht" is 25m but most new vessels launched recently or under construction are much bigger, some of them approaching 100m in length and as sumptuously fitted out and furnished as the most luxurious apartment.
There are now more than 7000 of them, predominantly in the northern hemisphere, and there are several hundred more under construction - a process usually taking about 24 months. They cost anywhere between $10 million and $100 million to build.
Every five years or so, these boats have a major refit, a process taking several months and costing anywhere from $500,000 to $30 million, depending on the size of the vessel and the extent of the work involved. The Marine Industry Association calculates the average refit is worth $6 million to the Auckland economy.
These are the dynamics that are driving much of the stellar growth in Auckland's marine industry and the reason why the city is scrambling to create more infrastructure to service it.
More than 100 superyachts have already been built in Auckland in yards such as Alloy Yachts and Yachting Developments in West Auckland and McMullen and Wing on the Tamaki River. Over 100 have also been refitted here, and the current demand is such that Auckland's support infrastructure is close to capacity in the summer months.
The city needs to more than double its current capacity in order to refit 50 or more of these vessels every year.
Most of this extra capacity will be provided around Wynyard Quarter which is already home to more than 100 marine businesses, forming the nucleus of the cluster of skills needed.
From November 1 Wynyard Quarter will pass into the ownership of the new Auckland Waterfront Development Agency, which will be in a position to make the best use of the water space and wharves around Wynyard Quarter to accommodate refit work on superyachts. Meanwhile, further up the harbour on the Hobsonville Peninsula, Yard 37 is well on the way to becoming a cluster of marine excellence, with superyachts currently being built and refitted there.
A growing proportion of super yachts need to remove their lofty masts to be able to pass under the Auckland Harbour Bridge, a complex and expensive procedure. As an example of the way the industry co-operates, Alloy Yachts in West Auckland often tows its superyachts to the Naval Dockyards at Devonport after launching, atop specially designed pontoons or barges, with masts still to be stepped and sails loaded.
The giant yachts are unloaded from the pontoons at Devonport, using special equipment, and taken across to Wynyard Quarter to have their masts stepped and for final commissioning. Babcock Fitzroy leases the dry dock and associated cranes and facilities and has the capability of servicing and repairing naval vessels, commercial and fishing vessels and superyachts up to 180ms in length, giving Auckland great versatility.
Superyacht builder Fitzroy Engineering, an associated company based in New Plymouth, motors its superyachts around North Cape and down the coast to Auckland for fit-out and commissioning here.
Gulf Harbour Marina has the skills and facilities to do refit work on superyachts and Tauranga and Whangarei also have facilities available to supplement the expansion in Auckland.
HISTORIC REFIT AMONG BEST IN THE WORLD
The Auckland refit of historic three-masted, gaff-rigged schooner Shenandoah of Sark was one of five finalists in the Best Refit section of the 2010 World Superyacht Awards in London earlier this year.
The refit of this beautiful 54m vessel involved more than 65,000 man hours co-ordinated by Orams Marine Services on the western edge of Wynyard Quarter, and was split into two projects to enable the owner to cruise in Shenandoah in New Zealand waters part-way through the refit.
Fitting today's technology unobtrusively into a wooden vessel built more than 100 years ago was one of the main challenges of this project, right down to casting replica bronze screws. Under one of the masts a New Zealand Collector's Edition silver coin has been placed, as tradition demands, to mark the year of the refit - under the other two masts American coins from 1902 match the year she was built.
Orams Marine is upgrading its Wynyard Quarter facilities including strengthening of its slipway to enable it to handle bigger and heavier vessels, and a new cradle to hold large vessels once they are hauled out of the water for refit and maintenance.
A comparatively recent development is to cover a superyacht in a shrink-wrap "tent" during part of a refit to keep out dust and rain. While Shenandoah was being refitted, Integrated Marine was carrying out a major five-month refit on the 56m ketch Zenji, designed by New Zealander Ron Holland, inside one of these giant fabric structures nearby on Wynyard Quarter.
When the mizzen mast was removed, Mark Wightman and his team found it was also a vessel that respected tradition - there was a coin recovered from one of Christopher Columbus' two vessels in accordance with the ketch's original name - Santa Maria.
Lloyd Stevenson, Chairman of the New Zealand Marine Industry's training organisation, says our the industry's training system is lauded as the best in the world and this really pays dividends when skilled tradesmen have to resolve issues with historic wooden vessels.