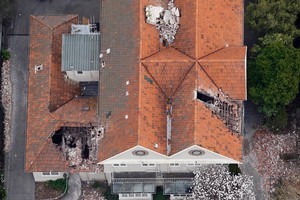 Real Estate industry insiders are picking a short-term strain on rental accommodation in Christchurch as people forced to leave their earthquake-damaged homes seek new places to live.
Real Estate Institute acting chief executive Wendy Alexander said it was too early to say what long-term effect the earthquake would have on the Christchurch market.
But with at least 431 homes reportedly up for demolition she said those who lived in them would need somewhere else to stay.
"The only thing that is possible with the Christchurch market is there will be an increased demand on short-term and middle-term rentals as people exit their existing homes and find accommodation during the period of transition," said Ms Alexander.
"Their grief and trauma is significant and the last thing we'd be contemplating is 'what's in it for us?' or any kind of speculation, it is absolutely the last thing we'd be advocating."
Realestate.co.nz chief executive Alistair Helm agreed there could be a spike in demand for rentals.
He believed business in the industry would be tough as people dealt with the earthquake but he thought house prices would not nosedive.
"In theory it shouldn't affect it really because the price is going to be affected by supply so prices could in fact go up," he said.
"People want to have a home and want to move into an area and if there aren't many properties in the area in saleable condition there could be a pressure on price," he said.
Mr Helm said if the estimates of 100,000 homes being damaged or destroyed were correct, a downturn in the local market could be long particularly as the current consent levels were 18,000 residential a year - for the entire country.
"The current capacity using simple logic is that we can only build 20,000 homes a year in New Zealand - and we want 20,000 in Christchurch. How do you deal with that sheer degree of home owner devastated property?"
Harcourts Gold sales consultant Allen Gunn said he had received inquiries from prospective buyers looking for new homes in the city just hours after the earthquake.
The long-term effect was uncertain but "there are people who will still need to move into Christchurch and out of it regardless of what has happened".