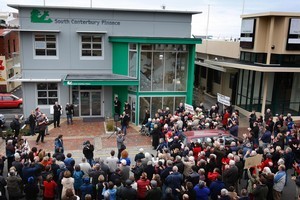 Allan Hubbard is blaming Government regulations for the failure of South Canterbury Finance.
"It has been deeply frustrating and hurtful, over the last nine months, to have been sidelined by my fellow SCF directors, and subsequently straight-jacketed by the Government regulators, from working to save South Canterbury," he said.
The Government this morning paid out $1.6 billion to cover investor losses as New Zealand's largest locally owned finance went into receivership.
South Canterbury Finance (SCF) has $1.2 billion in retail deposits and a further $350 million in other securities that are covered by the Government's Retail Deposit Guarantee.
Hubbard said in a statement that he had poured hundreds of millions of dollars into SCF since the global financial crisis.
He said it was a "blow" to he and his wife Margaret - also known as Jean - when the control of their company was taken away from them by the Government back in June.
"Surely they realised that by freezing me out and taking over control of my affairs that they would be dealing a body blow to South Canterbury Finance?"
He said today was a big day for the regulators and a sad day for investors.
"Instead they bring down the boom, take me out, freeze my access to my personal funds and now so many families, small businesses, farms and enterprises, throughout the South Island in particular, are going to be seriously suffering,"he said.
Hubbard said some people may consider his management style old fashioned but he has never defrauded a single investor of a single cent.
"I cannot allow my reputation to be savagely attacked by this shameful process and all of those who trusted Jean and me, over so many years, to allow this tragic set of events to go unanswered," he said.
Hubbard said he would not be commenting further.
A statement issued by Hubbard supporter Paul Carruthers said the couple had "become the victims of their own goodwill, and the New Zealand government have facilitated their public crucifixion."
"Those who only view this in terms of the cost to the taxpayer, do no justice whatsoever to the core values of many people in New Zealand," said Carruthers.
"As the last man standing, after a string of spectacular failures, in which no government intervened, we fail to see how the government's approach to this matter could possibly be perceived as constructive."
"Generations of trust and goodwill have been reduced to ashes, due to the New Zealand government's actions," he said. "It is inappropriate for anyone to suggest, or imply, that ALL of the blame must rest with Allan."
Timaru mayor Janie Annear said this morning's announcement has been a "shock and a blow" but the community will overcome it.
"Our community will be feeling for Mr and Mrs Hubbard because for them, it is like a bad dream that you just can't wake up from," Annear said.
She said the Hubbards had supported new and existing businesses, local charities and sports teams.
Annear said there were many views in the community but some blamed Wellington.
"This is not just a blow for South Canterbury, this is a blow for New Zealand," she said.
Timaru's local MP Jo Goodhew was today urging people to remain calm.
"I know that everybody is very, very concerned about what this is going to mean for our community, understandably so," Goodhew said.
The guarantee scheme should offer some reassurance.
"It is wider than that and of course that concern will remain until the nature of how this will be treated by the receivers is known."
Asked if she was concerned there would be a backlash against the Government in her electorate, Goodhew said she was not worrying about that right now.
"I understand that when people are anxious about something they look to the Government for assistance, therefore I understand that anxiety sometimes translates into them being angry. I should be worrying at the moment about meeting my constituents' needs, not about next year's election," she said.
There has been strong support in South Canterbury for company founder Hubbard with backers recently writing to Key asking him to reconsider the Government's approach to inquiries into Hubbard's affairs.
The Government put Hubbard and his wife under statutory management on June 20, along with seven charitable trusts, Aorangi Securities, and later, Hubbard Management Funds.
The Serious Fraud Office is also investigating the couple.
The 'Stand By Hubbard Group' - which describes itself as deeply concerned about the actions of the Government in relation to Hubbard - has set up a Facebook page for fellow supporters.
Since the announcement of SCF's receivership, friends of the page have largely blamed the Government, SFO and statutory managers.
"The end of South Canterbury Finance, our greatest investor in South Canterbury, well done SFO you have seriously crippled our economy," Jonny Stanley wrote.
Suzanne Edmonds said it was as Hubbard's supporters had predicted a long time ago.
"The authorities have stuffed the NZ economy...they have failed to police the crooks...let them lead the high life...let the fire sales drive down values and distroy investors confidence (sic)," she said.
- NZ HERALD / NZPA