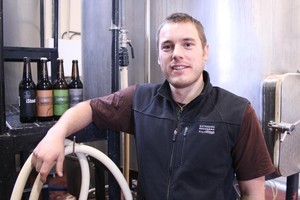 A former sea urchin researcher and two-time New Zealand poker champion has big plans to grow his micro-brewed beer label, which took out an industry award last week.
Dane Soren Eriksen, who is living in Blenheim, has won $160,000 over the past two years in the poker championships.
But instead of chasing even bigger prizes in Las Vegas, Eriksen used some of the money to start his own beer label - 8 Wired Brewing - last October.
Since then he has managed to sell 20,000 litres of his product, which is sold in various retail stores, as well as a number of speciality bars in Wellington.
The 30-year-old Dane's "The Big Smoke" beer won a gold medal at the BrewNZ awards, held in the capital on Thursday night.
"I never wanted to be a professional poker player because it's not a very nice environment," he said. "Sure, I could probably make good money grinding the games in Vegas, but I would go nuts within weeks."
Eriksen, whose Kiwi wife is expecting a baby, said playing poker professionally would not be compatible with family life.
His journey into beer-making began in 2005 when his wife, Monique, gave him a homebrew kit for Christmas.
Eriksen admitted that his first attempt at brewing turned out a terrible result, but he was hooked and decided to make a career of it.
In 2008 the biochemist quit his job researching the protein profile of sea urchins at the University of Auckland to take a position with Renaissance Brewing in Blenheim to gain some commercial experience.
While he builds his own label, Eriksen remains head brewer at Renaissance.
"The initial plan was to run a brew-pub somewhere in the North Island, but rather quickly we realised that running your own brewery is a huge investment, both in finances and your own time," he said.
Instead of sinking vast amounts of capital into setting up his own brewery, Eriksen opted to "contract brew" on his employer's equipment.
It's a cost-effective model used by a growing number of independent brewers in New Zealand, and he hopes 8 Wired Brewing will quickly become a self-sustaining business.
His background in science had helped his beer-making, Eriksen said.
"Brewing is all about bio-chemistry, but it's always on a much lower technical scale. Brewing is great because it's both science and art."