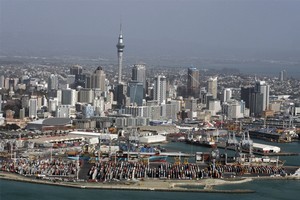 If the Super City's soon-to-be-seated governors were not fully aware of the challenge facing them, it has been made plain by the New Zealand Shippers' Council.
The association of exporters and importers says Auckland is the natural choice to serve as the North Island hub port for the bigger container ships soon to visit these shores.
Yet it considers Tauranga the logical choice based on its analysis of Auckland's readiness and ability to get things done.
The council's perception is that investment decisions will be stalled by political issues surrounding the Super City governance and structures, and debate over whether port operations are the best use of prime waterfront land.
This is a sobering conclusion. Auckland's port has underpinned the city's economic development.
The advantages provided by its natural features laid the foundation for Auckland to become easily the country's most populous city. The port prospered in turn.
The pluses provided by that scenario have not lost their relevance today. But Tauranga, thanks to impressive productivity, transport links and enterprise, has become the country's largest exporting port.
That port's burgeoning belief that it will become the one and only major port in the North Island has now been underscored by the Shippers' Council. It praises Tauranga's state of preparedness to do the dredging that will be required to accommodate ships carrying 7000 containers within five years.
The council also suggests Tauranga will have to spend only $50 million to $80 million to be capable of handling these behemoths, compared with Auckland's $200 million. But there is an air of unreality about some of its thinking.
Not for no reason did Maersk, the world's biggest shipping line, decide four years ago to put the bulk of its services through Auckland, not Tauranga.
And, more recently, Maersk and Hamburg Sud reached the same conclusion when they decided to consolidate their routes, part of a development that sees companies sharing capacity to capture economies of scale.
Such decisions, reflecting import volumes, suggest Auckland is both the natural and the logical choice for the North Island hub port.
Nonetheless, it would be idle to suggest the Shippers' Council does not have a point.
Whatever its many advantages, Auckland has a habit of losing out to cities that demonstrate greater initiative, be the subject a flower show or a motor-racing event.
Equally, the growth of Felixstowe to become Britain's largest container port illustrates how efficiency and transport links can trump other factors.
Perhaps Auckland's major problem, however, is one of perception, and major efforts are needed to dispel this.
Ports of Auckland says it is ready to do additional dredging in the shipping channel from Rangitoto "at fairly short notice". That being so, it is up to the Super City to prove the doubters wrong.
If Auckland is not to become a regional port supplemented by a marginally profitable cruise-ship business, decisions must be made quickly.
In particular, the Waterfront Development Agency must get together with Auckland Council Investments, the council-controlled organisation that will oversee the port.
They must develop a plan that caters for the port's commercial future but also the public interest, not least by shrinking the port's spread along the townfront as it accommodates bigger ships.
This will serve the national interest as much as that of Auckland. If New Zealand is not ready to take bigger vessels, shipping companies may increasingly hub through Australian ports.
That would mean higher costs for every container. The stakes are high for the country and for Auckland, which must assert its natural advantage.