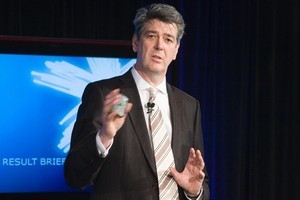 For most of us a 28 per cent pay cut would cause a rush to check budgets and worry about the bills.
But, even though he has lost $2 million a year, Telecom boss Paul Reynolds still has $5m to keep debt collectors at bay.
Reynolds' annual pay packet has been hit by a cut in his annual bonus, slashed from $3m to $900,000 in the year to the end of June. It took his total income down from a record $7.1m last year.
Financial commentator Bernard Hickey questioned whether the executive was worth either amount.
Internationally, and particularly in the US, highly-paid executives were increasingly under scrutiny. "Americans are asking questions, 'Does this make sense'?" he said.
This year Telecom was plagued by problems with its 111 service and XT mobile network. In the past quarter it lost 120,000 mobile connections to competitors.
Hickey said Telecom was underperforming on every measure.
"The fact that he's still getting a bonus of any sort ... I reckon it's worth stepping back and looking at our model of corporate capitalism that justifies large pay packets for CEOs of large companies, often by cutting costs."
Telecom spokesperson Mark Watts described Hickey's comments as "mean-spirited and narrow-minded".
Watts noted Reynolds' bonus was substantially smaller to reflect a challenging year for the company and the remuneration system was working as it should.