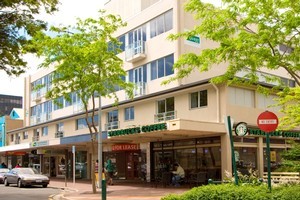 The Quest on Ward serviced apartment management franchise in Hamilton is being offered for sale with the current franchisee couple having decided to put the business on the market so that they can enjoy more time in a newly acquired Papamoa family home.
"The annual sales of accommodation nights for Quest on Ward are now about $830,000 and growing," says Andy Porter of LINK Business Broking North Shore who is marketing the operating franchise. "This is an average of $69,000 per month which equates to a profit to the franchisee of just over $10,000 per month or $124,000 per year."
Porter says the asking price for the management franchise for Quest on Ward, Hamilton, is $505,000 made up of tangible assets of $20,000 comprising mainly office and computer equipment and intangible assets of $485,000 such as goodwill, which represents a return on investment of 24.7 per cent.
"For the current franchisees, this is their second start-up Quest franchise - they also started Quest Ponsonby back in 2004," Porter says.
"The owners live on site in one of the apartments and run the business from Monday to midday Friday - using relief reception staff to cover Friday afternoon and the weekend."
Quest on Ward is a 29-apartment complex spread over three floors and made up of 26 one-bedroom apartments and three studio apartments.
The studios can be combined with an adjacent one bedroom apartment to create duel key two-bedroom units as required. The apartments typically offer about 45sq m in floor area and benefit from small, private balconies. They have full cooking and laundry facilities.
The franchisee's business also comprises an office-reception area and a good size house-keeping room on the first floor with parking for six cars directly at the back of the building. More car parking is available in an adjacent secure car-park building.
"Now that the business is well established, a new owner would have the choice of either living on or off site, but would need to employ a 'live-in' reception person as someone needs to be on site at all times," Porter says.
Reception hours are 7.30am to 7pm, Monday to Friday, with reduced hours on Saturday and Sunday from 8am and 4pm. Any after-hours calls are taken by an off-site answering company, which is equipped to cover most issues, but which will refer callers to the on-site owners if required.
"As is the case with most new Quest franchise businesses, real growth occurs in years two and three when the business becomes established in the marketplace," Porter says. "Quest on Ward is now in its third year with growth still be achieved."
Porter says Quest on Ward's offering of a serviced apartment style accommodation option coupled with a CBD location has proved to be a real winner for government and corporate travellers.
"They love the modern apartments and the fact they can walk to work or to the many restaurants close by after work."
Porter says anyone interested in buying the franchisee business will need to be approved by Stephen Mansfield, CEO for Quest Serviced Apartments New Zealand.
"Franchisees come from all walks of life and have varied career backgrounds. Quest was set up as a franchise to provide the opportunity for the average person to be in their own business and succeed. The key for success involves dedicated owner-operators prepared to follow the Quest franchise best practice guidelines."
After approval as a franchisee, the new owner will also have to undergo the Quest New Franchisee Training Programme, part of which includes a week-long introductory hands-on operational training at a Quest Nominated training franchise.
Follow-up training at Quest on Ward will also be provided as required by the owners to ensure the new franchisee is comfortable with the procedures required for smooth day-to-day running.
Porter says the Quest Group office based in Auckland provides on-going support to each franchisee. "This takes the form of regular ongoing business performance reviews, where the business is analysed and any issues are discussed with resolutions reached."
It also provides technical tutorial services to franchisees and their staff.
"The franchisor and the corporate team are always available to discuss any particular issues a franchisee might have in regard to their business," Porter says.