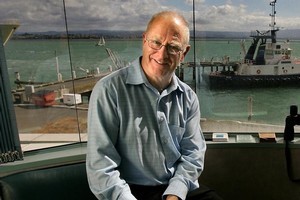 Port of Tauranga chairman John Parker threw down the gauntlet to rival Ports of Auckland yesterday saying there will be only one major port in the North Island.
In his report to the company's annual results Parker said a logical hierarchy of ports would emerge if ports applied commercial principles to investments "and this will happen naturally and rapidly if they do so".
The company said underlying profit for the year ending June 30 was up 9.3 per cent to a record $49.4 million.
"Our view of a logical outcome is that there will emerge one major port in the North Island and one in the South with the infrastructure to handle the majority of container cargoes on large vessels, with substantial efficiencies for exporters and importers and lower taxpayer-borne costs in transport infrastructure."
The two hub ports would be supported by a network of regional ports linked by coastal shipping and rail services, Parker said. Tauranga was the obvious choice to lead investment, he said.
Port of Tauranga is set to lock horns with its rival in the High Court at Auckland.
In August last year Port Of Tauranga said it had lodged declaratory judgment proceedings in the High Court in an attempt to resolve a long running dispute with transport and logistics company NZL.
The company is in dispute over contractual rights with NZL, which wants to start terminal operations at the port.
Chief executive Mark Cairns said it had become apparent there was a lot more to the dispute than met the eye.
"Serious questions need to be answered regarding Ports of Auckland's role and their support of NZL in the litigation," Cairns said.
"Port of Tauranga is concerned that claims being advanced by NZL are in fact being driven by and for the benefit of Ports of Auckland, accordingly we have recently joined Ports of Auckland to the proceedings with allegations to that effect."
A date has not yet been set for the hearing.
Ports of Auckland managing director Jens Madsen earlier this week said NZL had contacted the company indicating there could be an opportunity to do business.
"It has been very much an arms length approach," Madsen said.
"We are observing what's going on and of course having been named a co-defendant then there are certain things that we need to do but we're pretty relaxed."
Port of Tauranga's shares closed up 1c at $6.74. Goldman Sachs analyst Marcus Curley said an expectation of growth was built into the share price.
Port consolidation would not happen overnight and may never happen, Curley said. "Neither port can handle all of New Zealand's North Island volumes at the moment so I think it's a bit of a moot question really."
Port of Tauranga expected to maintain earnings growth into the next financial year, based on current trade volumes.
When an unusual item of $10.5 million due to a tax law change was included, alongside a $2.35 million impairment to asset values, bottom line net profit was $38 million, compared to $45.2 million a year earlier
Loans and borrowings totalled $199.1 million as at June 30, down from $210.5 million the previous year, while the net cash inflow from operating activities increased slightly to $56.1 million.
Cairns said the outlook from the shipping lines was better than in the past financial year.
"The last visit we had up into Europe we were really expecting it to be in the doldrums but a lot of the vessels were very full out of Asia and Europe," Cairns said.
Total trade for the port was up 2.4 per cent to 13.7 million tonnes, with exports up more than 8 per cent to 9.2 million tonnes.
Forestry-related exports were up 19 per cent to 6 million tonnes, while grain and dairy food supplement imports were up 27 per cent to 849,000 tonnes.
Container volumes were down 6.5 per cent, mainly due to shipping line mergers.