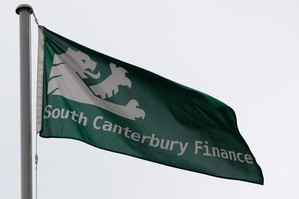 The taxpayer may be tapped to help prop up South Canterbury Finance in a $750 million recapitalisation plan involving overseas investors, industry sources say.
The plan could be unveiled this week.
Under the terms of a waiver from its trustees, the company has until the end of this month to either secure new equity funding or obtain an extension to the waiver.
If it cannot, its trustees will not let it register a new prospectus to continue raising money from the public, leaving it facing the prospect of receivership.
However, Kapiti Coast financial adviser Chris Lee told the Herald he believed the company would announce a a recapitalisation plan this week "and it will involve the Government making concessions to try and help South Canterbury survive".
Another source said "a significant development" was expected this week involving a Government-supported recapitalisation.
However South Canterbury founder Allan Hubbard would be required to relinquish all ownership of South Canterbury and associated companies.
The source understood in return Hubbard would not face any charges that may arise from the current Serious Fraud Office investigation into his affairs initiated two months ago.
However SFO head Adam Feeley said he was unaware of any such proposal.
"Nobody's discussed anything along those lines with the SFO and I don't imagine it would be either relevant or appropriate for that kind of discussion to happen with the SFO while it's carrying out an investigation."
South Canterbury's chief executive Sandy Maier also played down the prospect of an imminent announcement.
"We always said we were headed for August 31.
"That's the date on which we've got a waiver due from the trustee and in which we hope to have some answers in terms of incoming equity and we're going to make a market announcement around then anyway."
He said talk of Government involvement in any deal was "an interesting rumour" but there had been no negotiations to that end.
He said the company was still in the process of considering new investors. "We've gone to a shortlist and we're analysing proposals". Lee said he understood two overseas entities were in negotiations with South Canterbury over the recapitalisation and the Government would be helping "by offering some concessions that would in effect get it out of their guarantee".
Another source said an investment by the Government in South Canterbury Finance would support efforts by other investors to keep the company in business and meet its obligations to retail investors.
In turn that could reduce the likelihood of the company failing and the retail guarantee being drawn on.
According to the latest Treasury information it is considered "more likely than not" that further finance company failures will cost the Government $887 million.
The Business Herald understands most of this contingent liability hangs on South Canterbury Finance.
A spokesman for Finance Minister Bill English said the minister had no comment.
Lee estimated South Canterbury needed about $750 million at least because of a shortfall in cashflow required to pay out retail investors whose debentures were maturing and because of a "put option" on $250 million in bonds issued some time ago.
The option requires the company to repay bondholders in the event that its ownership changes, which was likely under the deal being negotiated.
The company would also require additional funds to cover further provisions on its loan book which "they will certainly be announcing".
South Canterbury announced in June it hoped to get a new equity partner on board, with industry speculation it was seeking $200 million to $400 million, but there has been no update.
ON THE CLOCK
* South Canterbury Finance's recapitalisation plan is expected to be unveiled soon.
* Sources say two overseas entities are working on a proposal that involves some Government investment.
* The company, which owes retail investors $1.2 billion, has until the end of the month to come up with a plan.