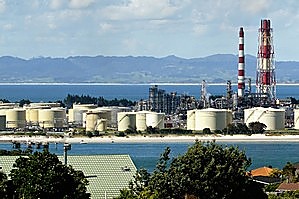 New Zealand Refining has posted a nearly 45 per cent decline in interim net profit to $29 million, as the country's only fuel refinery booked a significant fall in revenue.
Operating income fell 26 per cent to $135m for the six months to June 30, and the outlook for refining companies worldwide was uncertain, NZ Refining chairman David Jackson said.
The profit, while lower than the previous year, was better than expected. The company had capitalised on healthy margins in the first six months of the financial year, and processing fee revenue had increased as a result of higher throughput and operational efficiencies.
Margins remained healthy at US$5 ($7.08) to US$7 per barrel, compared with about US$1 per barrel towards the end of 2009. Margins had been US$12 per barrel at the start of 2009.
"Despite this improvement we fully expect that further volatility in the refining sector will continue to affect refiners' margins," said Jackson.
Although the company was in a solid position, the market had not yet recovered enough to expect a sustained recovery in refining margins. As well, the processing fee and New Zealand dollar continued to be volatile.
The global financial crisis has seen demand for oil products falter, and new global refinery capacity has come online.
The company's refining margin fell from around US$12($16.3) per barrel at the start of the year to around US$1 at year end, he said.
The Northland-based company will pay an interim dividend of 2c per share on September 23.
NZ Refining has completed one of two planned shutdowns for the year, for maintenance and for the first instalment of a $27m investment in a catalyst upgrade. However, shutdown costs were $8m above budget.
Shares in NZ Refining - owned by BP, Mobil, Caltex and Shell purchaser Greenstone Energy - were up 12c at $3.12. That compared with net tangible assets per share of $2.04.
- NZPA